In 1976, SGI President Ikeda designated May 5 as "Soka Gakkai Successors Day," one of the most significant occasions in the Soka Gakkai Day. The day signifies the wish and expectations of the SGI President on the development of the successors in the organisation. SGM commemorates May 5 as High School Division Day.
The SGM High School Division (HSD) members commemorated the day through anniversary celebrations, camping and bonding with friends. the SGM Kedah HSD held an anniversary celebration themed "Youth, Be the Source of Light for Humanity" at the SGM Kedah Culture Centre on May 13, 2017, with the attendance of 74 members. The event was organised by 12 Student Division members from Universiti Utara Malaysia. The members were determined to live up to the mentor's expectation to foster more capable people and expand the solidarity of good.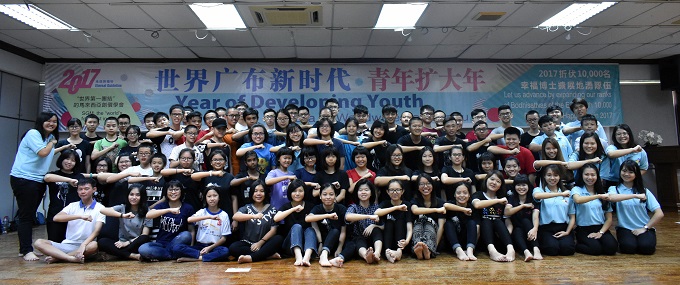 Kedah
Sixty-eight HSD members from Pahang and Terengganu organised a camp themed "Youth, Let's Advance on the Great Path of Kosen-rufu" at the SGM Pahang Culture Centre on May 27 and 28. During the camp, they studied the Gosho, re-enacted the lives of great individuals through sketches, watched videos featuring the three founding presidents and conducted discussions on advancing kosen-rufu. They also conducted dialogues with seniors and shared victory reports and experiences.
In their group discussions, they touched on the current societal problems faced by youth such as depression and suicide. They talked about how to help friends with their problems and sharing Nichiren Buddhism with them.
In their interaction with seniors, the youth learnt how the seniors overcome challenges in facing their karma and strengthening their faith. A Soka friend exclaimed, "I am moved by your high spirits that I have decided to work hard when facing difficulties in my studies."
| | |
| --- | --- |
| | |
| Pahang | Kuala Lumpur |
| | |
SGM Kuala Lumpur HSD organised Friendship Days in June and July where HSD members invited their friends. Besides playing games to promote friendship, there were experience-sharing sessions on pursuing their dreams in life. The group discussions focused on building friendships with others and encouraging participants to express themselves. In conclusion, the organisers spoke about President Ikeda's expectation for the HSD, shared stories about President Ikeda's younger days and stressed the importance of friendship.
In the joint message by HSD leaders Yin Chung Keong and Anna Kang Pei Huon, they encouraged HSD members to study hard and make true friends.