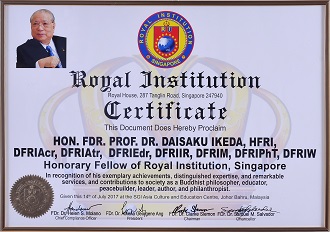 The Royal Institution, Singapore (RI) conferred upon SGI President Ikeda its highest honour of Honorary Fellow for his longstanding contributions to global peace-building and philanthropic contributions to humanity via peace, culture and education. In addition, RI also conferred upon President Ikeda the title of Doctor Fellow. The Institution's Chancellor, FDr Dr Samuel M. Salvador, HFRI, DFRIProf, DFRIM, awarded the honorary fellowship to President Ikeda in a ceremony held at the SGI Asia Culture and Education Centre (SGI ACEC) on July 14. This conferment was part of the Institution's 10th Global Congress and Conferment Ceremony (GCCC) held at the SGI ACEC. SGM General Director Koh Sia Feai received the award on President Ikeda's behalf.
RI is a global, multidisciplinary, professional membership and accrediting institution that aims to be the premier platform for effective global networking, connecting education, business, commerce and industries and facilitating collaboration, innovation and perpetual learning. It recognises the achievements of leaders and professionals from various spheres, including doctors, educators and philanthropists. It has over 220 constituents Royal Institutes in Singapore and the Philippines.
In the citation, FDr Dr Samuel M. Salvador stated that: "When we honour a man, we do not honour him alone, but the ideals and philosophy he represents in us, some quality of being that is partly him but is also cognate with ourselves, with the larger human family, with the universal spirit…. Our esteemed Honoree today, is a great Buddhist philosopher, global peace-builder, educator, author, and poet."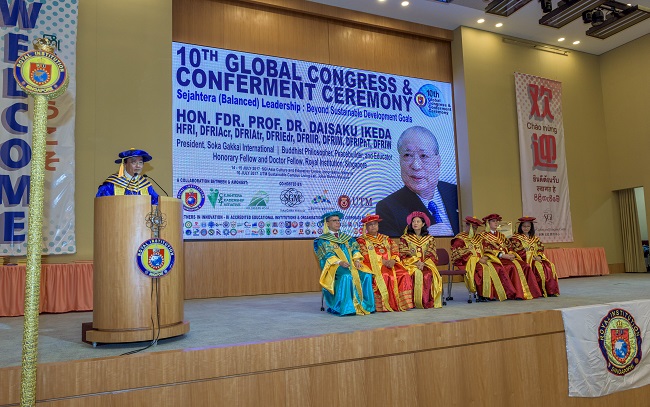 Dr Samuel also spoke on President Ikeda's dedication to realising the vision of his mentor, second Soka Gakkai President Josei Toda: "Our Honoree found in Toda an open and unaffected person, a man of unshakeable conviction with a gift for explaining profound Buddhist concepts in logical, accessible terms….In May 1960, two years after Josei Toda's death, our Honoree, then 32 years old, succeeded Josei Toda as President of the Soka Gakkai. Under his effective and efficient leadership, the movement began an era of innovation and expansion, becoming actively engaged in cultural and educational endeavours worldwide. Our Honoree has dedicated himself to fulfilling Toda's dream by developing initiatives in area of global peace, culture, and education."
In an message of appreciation, President Ikeda said: "I am well aware of the lofty tradition of your institution, which has made manifold contributions in the fields of peace, education and humanism over the years, in particular, by serving as the bridge to connect people around the world who pursue peace and harmonious solidarity….please be assured of my firm resolve to further contribute towards peace and humanism as a way to respond to your extraordinary generosity." He also offered his prayers for the continued growth for RI.