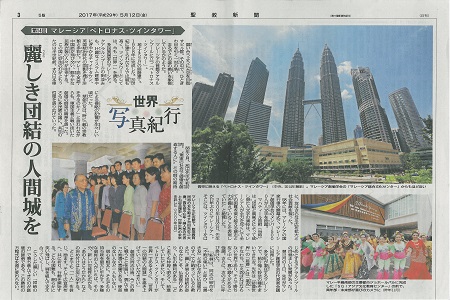 Seikyo Shimbun
In recent months, President Ikeda has written articles featuring Malaysia in Pumpkin, a Soka Gakkai-affiliated magazine.
In the June 2017 issue of Pumpkin, President Ikeda wrote an article titled "Malaysia – At the Crossroads of Fostering Global Citizens for Coexistence." In this article, he quoted a Malay pantun that spoke of the brilliance of gold and diamonds, using it to stress that each person has gold- or diamond-like brilliance within their lives. When we can appreciate this brilliance within one another and strive to live in harmonious coexistence, the world will become a truly beautiful place. He expressed his hopes that Malaysia will be the cradle of a new global civilisation and holds high expectations for our country.
In an article in the May 12, 2017 edition of the Seikyo Shimbun, the Soka Gakkai daily paper, Editorial Board wrote about the Petronas Twin Towers, then leading on to state that unity between mentor and disciples in the realm of Soka is the key to victory. It stressed that this is the eternal guideline for victory in kosen-rufu.