The SGM Golden Age Group was established on June 2, 2002 for elderly members to reaffirm the way of living a fulfilling and meaningful life during their twilight years. This year marks the 16th anniversary of its establishment.
In accord with SGM's 20,000 Professors of Happiness (POH) campaign, members from the Golden Age Group gave their full support by inviting their friends to attend various SGM activities and encouraging new friends. Even though they are advanced in age, their spirit to advance kosen-rufu is never dimmed and they are still brimming with energy. They made concerted efforts to share Buddhism with their family members, neighbours and friends.
| | |
| --- | --- |
| | |
| Kuala Lumpur Region 1 | Kuala Lumpur Region 5 |
| | |
From May to July, Golden Age Group members from Selangor, Penang, Negeri Sembilan, Melaka, Pahang, Sarawak, Kuala Lumpur, Johor and Sabah held commemorative meetings at their respective states. In his message, SGM General Director Koh Sia Feai conveyed his utmost gratitude for the members' effort in advancing Malaysian kosen-rufu. He hoped that all members would always fight alongside SGI President Ikeda and to create a new history for SGM by further expanding the ranks of Bodhisattvas of the Earth.
On May 20, SGM Selangor held a commemorative meeting at its culture centre with some 550 people attending to study two of the Soka Gakkai's five eternal guidelines – "Faith for a harmonious family" and "Faith for achieving happiness."
While on June 2, SGM Negeri Sembilan Golden Age Group members invited SGM Women Division Vice-Leader Tan Chui Mei to share her experience in transforming her challenges into mission. On the same day, SGM Sarawak held its first commemorative-cum-happiness sharing meeting. In total, 148 people, including nine new friends, attended the meetings conducted at SGM Sarawak Culture Centre and the Miri Centre.
On June 24, SGM Kuala Lumpur Region 5 held a commemorative meeting at the SGM Culture Centre. The parable of the wealthy man and his poor son in chapter four of the Lotus Sutra was presented through a drama performance. The lively show brought out the story of the Buddha teaching people the ways to gain enlightenment.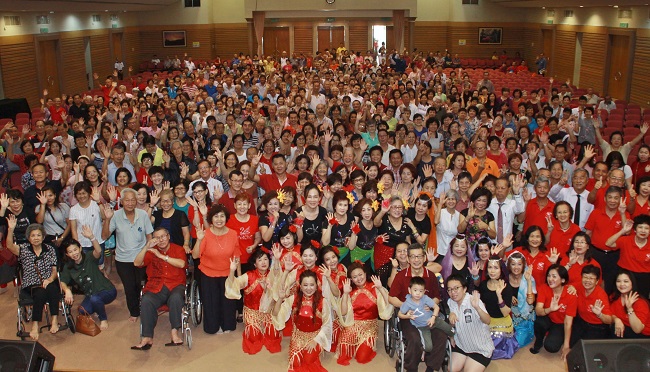 Selangor
At the end, using Mr Ikeda's guidance as reference, Headquarters Women Division Vice-Leader Heng Sai Guek shared how Mary Helena Cornwall Legh spends her days taking care of patients with leprosy. She encouraged the members to always live their lives for the sake of their own mission.
Commemorative meetings around the nation were adorned with joyful songs, dances and culture performances as well. In a mixture of laughter and tears, Golden Age Group members urged each other to keep striving on the path of kosen-rufu and create greater value in their lives and live a "solemn old age like the sun setting in a red sky" life as mentioned by Mr Ikeda.