Master-level artworks by 21 high reputable senior artists from Taiwan Academy of Fine Arts (TAFA) were presented in Malaysia, thus bringing Malaysians a luxurious feast of artistic creations.
"Art Made in Taiwan" exhibition was organised by Soka Gakkai Malaysia (SGM) together with TAFA and the Taipei Economic and Cultural Office in Malaysia (TECO). The official opening was held on June 2 at Wisma Kebudayaan SGM with TECO Representative, HE James Chang Chi-Ping as guest-of-honour. Also present were six artists from Taiwan (whose works are being exhibited), including Hsiao Tsung-Huang, Director of National Taiwan Museum of Fine Arts and Chung You-hui; YBhg Prof Dato' Dr Mohamed Najib Ahmad Dawa, Director-General of National Art Gallery Malaysia and representatives from various spheres.
The opening ceremony started with two classic Taiwanese folk songs beautifully presented by Resonance Choir to welcome the Taiwanese guests who came from afar.
In his welcoming speech, SGM General Director Koh Sia Feai quoted SGI President Ikeda, saying that civilisational exchanges will further develop culture and open the doors to a new era of peace and happiness. He hoped this exhibition would serve as a platform for the convergence of international and local artists to stimulate new creative ideas, foster friendship between Malaysia and Taiwan and thus enable the flower of friendship to flourish in both lands.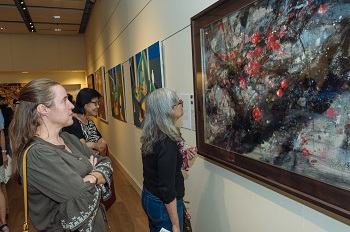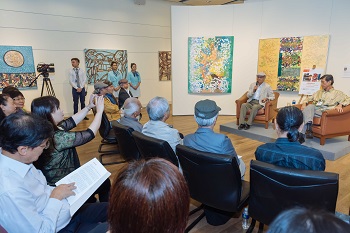 Mr Hsiao mentioned that he had been collaborated with Soka Gakkai International and the Tokyo Fuji Art Museum on several occasions, and that the relationships were still strong. He also said this exhibition, which displayed master-level artworks, was very meaningful and praised SGM for having such wisdom and refined vision in art.
In his speech, HE Chang mentioned that he is happy at the collaboration between TAFA and SGM in showcasing outstanding artworks of senior artists in the Taiwanese art world, presenting the rich and diverse cultures and heritage of Taiwan, and at the same time, reflect the new sparks of Taiwanese aesthetics under the influence of globalisation.
The exhibition presented 53 pieces of artworks in various genres including ink-wash paintings, calligraphy, oil paintings, prints and graphic designs. Besides artists from Taiwan, three renowned Malaysian artists – Dr Choong Kam Kow, Dr Cheah Thien Soong and visual art designer Mr Lew Tau Fei – also showcased their artworks, which are infused with local elements, in this exhibition.
The next day, June 3, an art talk moderated by Dr Choong Kam Kow, Chairman of Federation of Asian Artists Malaysia Committee, was held at the International Conference Hall of Wisma Kebudayaan SGM where the six senior artists from TAFA as well as two local participating artists took the stage to share their journey of pursuing artistic dreams and the ideas behind their creations.