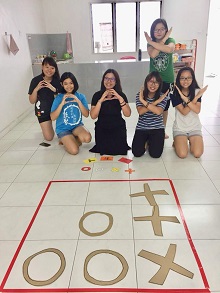 Mersing, Johor
The SGI Ikeda Kayo-kai Day falls on June 4. In June, Young Women Division (YWD) members from all around the country gathered at their respective meeting venues to hold Kayo Chant-and-Chat gatherings. This time, the theme was "YWD, Be Happy!" Besides holding chapter- and district-based meetings, small gatherings were also held to further deepen the connection amongst members.
As before, activities like singing The Vow of Ikeda Kayo-kai, playing the guitar, eating delicious food and making handicrafts were conducted during the gatherings. Furthermore, the members opened their hearts with ease and spoke on various topics such as the power of chanting daimoku, shakubuku experiences and changes they experienced after practising Nichiren Buddhism. They also learnt the difference between absolute happiness and relative happiness.
From June 10 to 29, SGM Penang held 27 Kayo Chant-and-Chat gatherings, with a total of four new friends officially joining SGM. Penang Headquarters 1 held a small gathering on June 12, where members shared their thoughts on various topics. They encouraged each other with SGI President Ikeda's guidance and four of them made determinations to pass the year-end entrance-level Buddhist study examination.
Meanwhile, members from Headquarters 7 held meetings on June 23. They shared the spirit a YWD member should possess by using material from The New Human Revolution, inspiring the members to squarely face problems in life. One of them resolved to invite her roommate to join SGM activities. On June 29, a few members of Headquarters 2 invited two Indian friends and shared with them their experience of chanting daimoku and practising Nichiren Buddhism. At the end, the two new friends decided to start chanting daimoku to overcome their problems in study.
| | |
| --- | --- |
| | |
| Penang | Pahang |
| | |
Moreover, SGM Pahang also held meetings on June 9. A High School Division member successfully invited one of her Indian friends to attend the meetings. Her friend decided to join SGM and started chanting daimoku afterwards. She was greatly motivated and was determined to continue introducing people around her to Nichiren Buddhism.
All members of Ikeda Kayo-kai have been steadily "eradicating all misery with monumental victories," as mentioned in the song The Vow of Ikeda Kayo-kai.