From June 29 to July 1, 2018, SGM Selangor held a book fair at the SGM Selangor Culture Centre, attracting thousands of book lovers.
The fair showcased books in various categories such as Buddhist fundamentals, dialogues, new books, art catalogues and The Human Revolution and The New Human Revolution. Visitors were engrossed in browsing and choosing the books and exchanging views with people around them.
In addition to the fair, side events were also held, such as reading sessions, book reviews and do-it-yourself activities. A music performance was also held.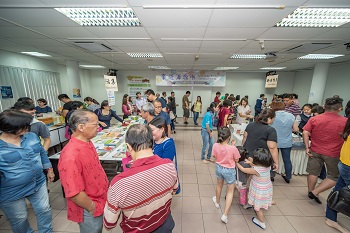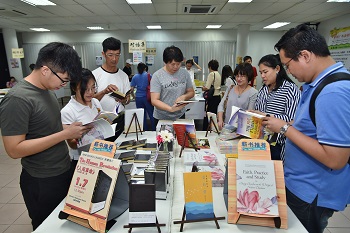 SGM Publications English-language editor Dinesh Chandren introduced the Simplified Chinese and English editions of Faith, Practice and Study and Basing Ourselves on the Writings of Nichiren Daishonin, which compile selected lectures by President Ikeda from the The Buddhism of the Sun study lecture series. The Simplified Chinese edition is published by SGM Publications while the English edition is published by Eternal Ganges Press of India.
SGM Publications Chinese-language editor Chia Kok Peng then introduced the contents of the books and introduced the audience to some publishing industry terminology to help enhance their appreciation towards books.
The Human Revolution (Simplified Chinese Edition) vol. 2, published by SGM, was launched on July 1 in conjunction with Soka Family Day.