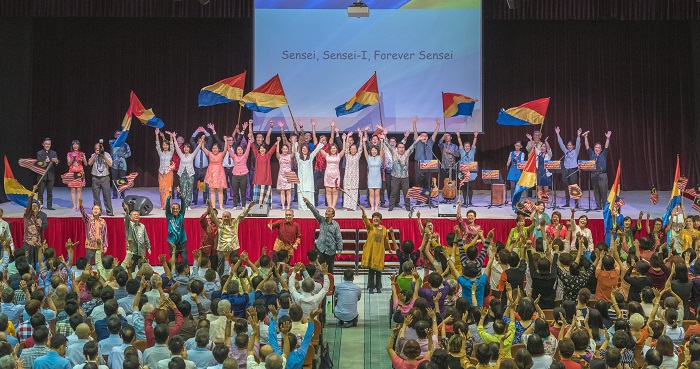 SGM Culture Centre, Cheras
A new dawn of kosen-rufu in Malaysia has arrived!
On July 3, some 5,000 SGM leaders gathered at SGM Culture Centre, Cheras and other centres around the nation to commemorate the New Dawn of Kosen-rufu in Malaysia to celebrate the achievement of 20,000 Professors of Happiness (PoH) in its shakubuku campaign. The meeting was broadcast live to 27 venues around the nation. July 3 is also Mentor-and-Disciple Day.
The meeting started off with SGM General Director Koh Sia Feai leading a sonorous gongyo and daimoku session with all the comrades-in-faith. Later, they sang the song "Forever Sensei" harmoniously.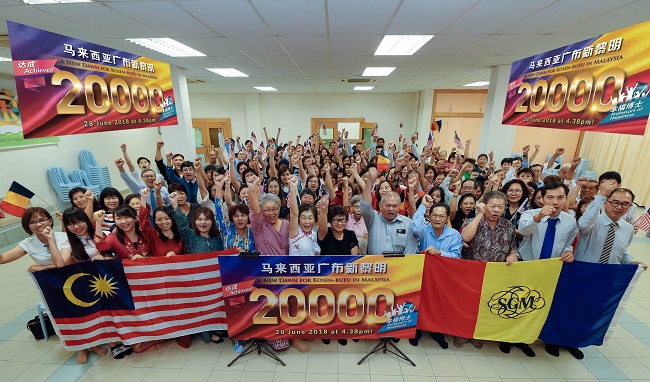 Melaka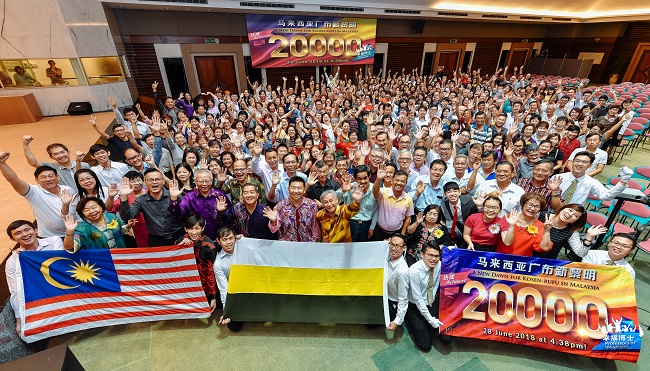 Perak
Afterwards, videos were played, showcasing the amazing journey of achieving 20,000 POH and six victory reports. In each report, disciples of President Ikeda awakened, and created wave after wave of shakubuku victories. The Langkawi chapter in Kedah became the first chapter to achieve 25 PoHs in the campaign towards July 3. The Taiping chapter in Perak was the first chapter to introduce 100 people to Buddhism, and Johnny Wong Pin En, an 82-year-old Men Division member in Sabah, who consistently travelled long distances to outlying towns to carry out shakubuku.
Teh Yong San, a SGM Selangor Young Men Division (YMD) leader and Tan Eu Jing , a SGM Kedah Young Women Division (YWD) leader represented SGM youth in sharing their experiences of introducing friends to Nichiren Buddhism. Meanwhile, SGM Kuala Lumpur Region 4 YWD Leader Koay Suat Erh shared how Kuala Lumpur had overcome the workings of devilish functions along the way achieve victory.
Youth Division Leader Chia Kok Peng presented the SGM Youth Division victory report, which included the division achieving over 10,000 PoHs. On behalf of the Youth Division, he expressed deepest appreciation to all Men Division (MD) and Women Division (WD) members who had fully supported the campaign, in particular the youth's endeavours.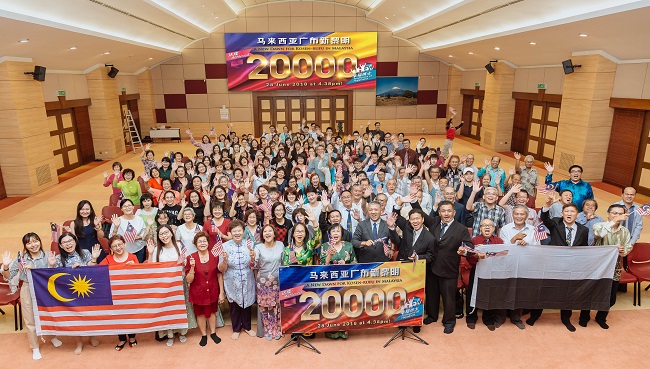 Pahang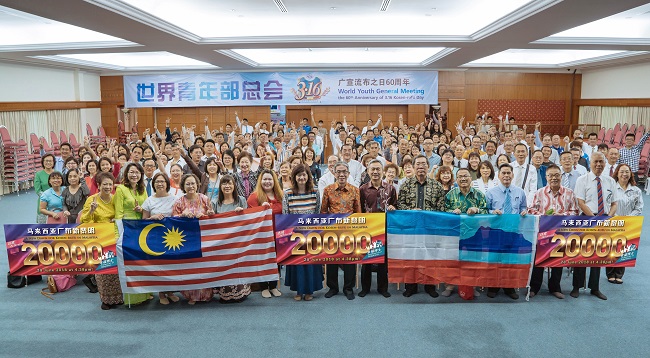 Sabah
Mr Koh then took the stage. In his speech, he asked all members to connect our hearts with our mentor SGI President Ikeda and "become as inseparable as fish and the water in which they swim" (WND-1, p. 217) in order to achieve further victory in the future. He expressed deep gratitude for the efforts exerted by all the members and hoped that the culture of shakubuku in Malaysia will continue.
He stated that this 20,000 PoH campaign was to enable people to achieve happiness through practising Nichiren Buddhism. The focus for the second half of the year would be to strengthen their faith and foster them as capable people for kosen-rufu and true disciples of President Ikeda.
Finally, participants sang a high-spirited song to end this historic and profoundly significant celebration.
Encouragement – the Key to Achieving 20,000 POH
| | |
| --- | --- |
| | |
| Kuala Lumpur | Tawau, Sabah |
| | |
After 19 months of continuous striving, from achieving 10,000 POH on the 90th birthday of President Ikeda, to 15,000 POH on May 3 Soka Gakkai Day, and finally to successfully achieving 20,000 POH on June 28, SGM has created new milestones in the history of kosen-rufu with unprecedented achievement, sounding the bell to a new dawn of kosen-rufu in Malaysia! Sincere dialogue and encouragement were the main driving forces in achieving this ultimate goal.
Shakubuku Kickoff Meetings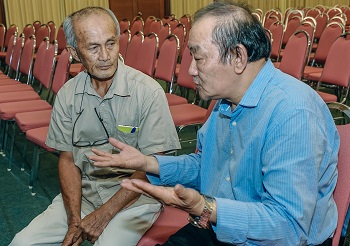 Mr Koh encourage a MD (Sabah)
Since January 18, Mr Koh and WD Leader May Chan had been taking the lead in holding shakubuku kickoff meetings around the country. Their efforts in encouraging members nationwide helped ignite the flame of shakubuku.
Using passages from the Gosho and President Ikeda's guidance, they shared with members the significance and benefits of shakubuku, and urged members to seize the moment to fight alongside our mentor by expanding the ranks of Bodhisattvas of the Earth, stating that "that will remain as the only memory of your present life in this human world." (WND-1, p.64)
Home-visitation and Dialogue
Cherishing the person right in front of us by sincerely encouraging them has always been SGM's tradition. During the shakubuku campaign over the last 18 months, SGM held close to 2,800 happiness sharing meetings nationwide. Leaders and members also exerted themselves in home-visitations and conducting dialogue with friends who are suffering, enabling them to savour happiness.