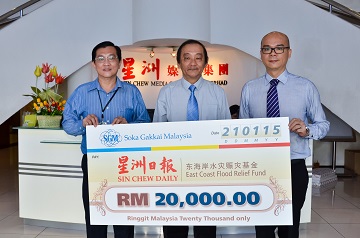 Since the devastating East Coast floods struck at the end of last year, SGM members have been involved in various endeavours to bring relief to flood victims and aid the reconstruction of the affected areas.
On January 21, SGM presented a cheque for RM20,000 to the Sin Chew Daily East Coast flood relief fund. Earlier that month, SGM Youth Division members volunteered in on-site flood relief efforts coordinated by Sin Chew Daily and Fo Guang Shan Malaysia (please see our report on page of the February issue of COSMIC).
SGM General Director Koh Sia Feai handed the donation to Sin Chew's Chief Operating Officer Koo Cheng. On New Year's Day, SGM members held prayer meetings where they prayed for the alleviation of the floods and swift recovery of affected areas at SGM culture centres nationwide. They also donated money to for flood relief purposes.
The sum donated to Sin Chew's fund comes from SGM's members sincere efforts to aid in the reconstruction of the affected areas. Prior to this donation, RM 60,000 has been disbursed to flood victims in Pahang, Kelantan and Terengganu.