On March 16, 1958, the Soka Gakkai, under the leadership of second president Josei Toda, held a ceremony that Mr Toda described as a "dress rehearsal for kosen-rufu." It was a ceremony in which disciples received the baton of kosen-rufu from the mentor.
This March 16 marks the 59th anniversary of the ceremony. In 2017 and 2018, SGM aims to respond to our mentor SGI President Ikeda with 20,000 new members over these two years. Thus, this year's March 16 commemoration is imbued with added significance.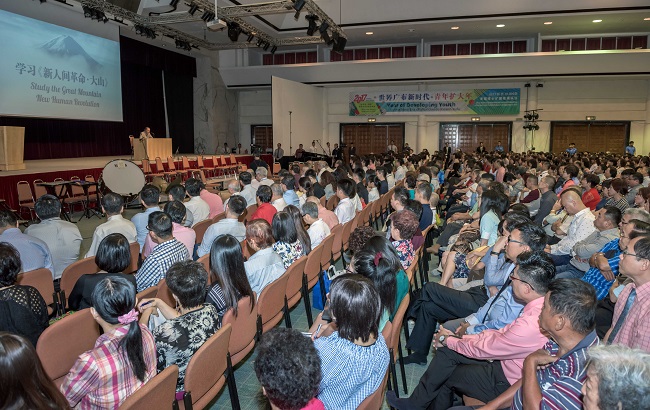 March 16 commemorative all-leaders meeting in Kuala Lumpur
On March 12, SGM Kuala Lumpur held a March 16 commemorative all-leaders meeting, which was kicked off with performances by the Rainbow Junior Choir Group and the FeiYang Symphonic Band. SGM Young Men Division Leader Andrew Looi then spoke on the profound significance of the March 16 ceremony and the role of youth in succeeding the will of the mentor.
Two Youth Division members, one young man and young woman, then shared their victorious experiences. Rudy Kok from Kuala Lumpur spoke on how his family united in praying for the recovery of his young daughter who was afflicted with a serious illness. Support from fellow members in his area gave their family great encouragement to overcome this ordeal, further strengthening his conviction that the Soka family is the greatest family of all.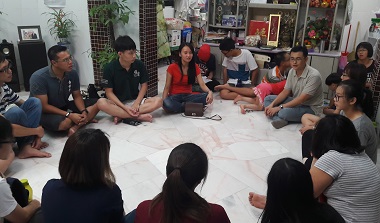 Discussion Meeting in Penang
Ngoh Fei Jhue from Johor spoke of recent experiences in sharing Buddhism with colleagues and friends. Fei Jhue, a teacher by profession, spoke about praying earnestly and successfully introducing six people to the practice this year. She will soon enrol at Soka University Japan and made the determination to repay her debt of gratitude to President Ikeda and be the light of hope wherever she is.
In his speech, SGM General Director spoke of volume 30 of The New Human Revolution, President Ikeda's serialised novel, which began serialisation in the Seikyo Shimbun on January 1. The first chapter of this volume, "Great Mountain" speaks of the nefarious plot by the priesthood and scheming Soka Gakkai members who attempted to destroy the Soka Gakkai. Mr Koh urged all members to earnestly study this chapter and develop the ability to recognise good from evil and strengthen their bond with the mentor.
Discussion meetings commemorate Kosen-rufu Day
Discussion meetings held around the nation also commemorated this significant day. A discussion meeting held on March 14 in Tanjung Bungah, Penang, saw the attendance of nine new friends and members of the Junior Division putting up a performance.
On March 18, the 11th SGM Training Academy held at the SGM Selangor Culture Centre also commemorated Kosen-rufu Day with participants of the course attending exchange meetings at 103 venues throughout Selangor, with over 2,900 in attendance. A total of 278 new friends attended these meetings, where people shared experiences of overcoming challenges through faith and had lively exchanges of friendship.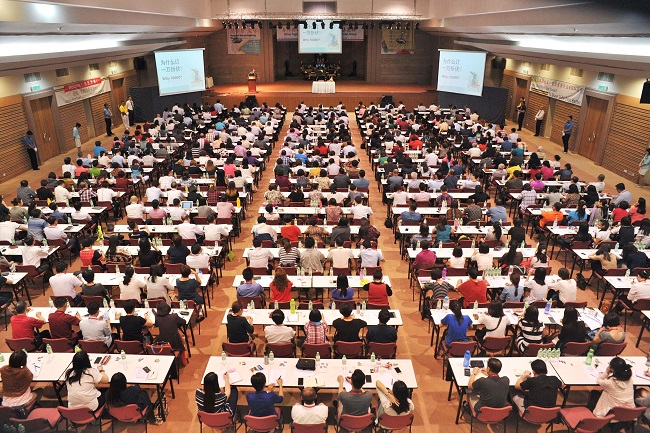 11th SGM Training Academy in Selangor
March 16 Youth Commemorative Gongyo
On March 16, 46 Youth Division representatives from Kuala Lumpur, Selangor, Negeri Sembilan, Johor and Penang attended a March 16 Kosen-rufu Day Commemorative Gongyo meeting at the Mentor and Disciple Room of the SGM Mentor and Disciple Peace Hall. SGM General Director Koh Sia Feai spoke of the profound significance of March 16, stressing that it is the disciples who must bear full responsibility for the advancement of kosen-rufu into the eternal future. He asked the youth to be awakened to their mission and be the driving force for Malaysian kosen-rufu and expand SGM to respond to our mentor.