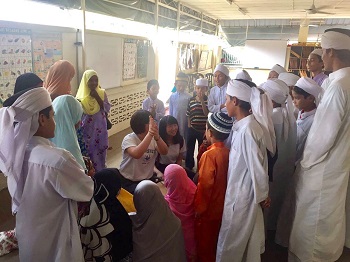 In furtherance to the cooperation between SGM Selangor Student Division and the United Nations High Commissioner for Refugees (UNHCR) during the SGMS Peace Proposal Forum in 2016, the SGM Selangor Student Division visited the Rohingya Refugees Community School in Klang, Selangor on March 11, 2017 to understand the challenges and needs of the Rohingya students.
The community school was attended by around 40 Rohingya refugees' children between the age of four and 17 years old who live in the vicinity of Klang. Here, they learn various subjects including Bahasa Malaysia.
The SD members conducted dialogue with the head of the community and school committee members. They also spoke with the school children and found out more about their backgrounds, hobbies, favourite subjects and their dreams in life.
They encouraged them to strive in their studies and introduced SGI President Daisaku Ikeda's encouragement. The SD members also conducted a brief Mandarin class for the children which interested them.
The two parties expressed interest in future collaboration for the betterment of the Rohingya community linked to this refugee's community school.