On 3 December 2022, the Post 29th Asian International Art Exhibition (AIAE), jointly organised by SGM and the Federation of Asian Artists – Malaysia Committee (FAA-MC) was opened. Held at Wisma Kebudayaan SGM (WKSGM), the exhibition was officiated by the director general of National Art Gallery of Malaysia Amerrudin bin Ahmad.
The Covid-19 pandemic had affected everybody, disrupted lives and impacted livelihoods. Artists too are not spared. Themed "Sustaining Creativity under the Pandemic Era," this exhibition showcased the artworks of 15 members of FAA-MC that were created during the pandemic, demonstrating their spirit, determination and joy in sustaining their creativity despite the difficult circumstance.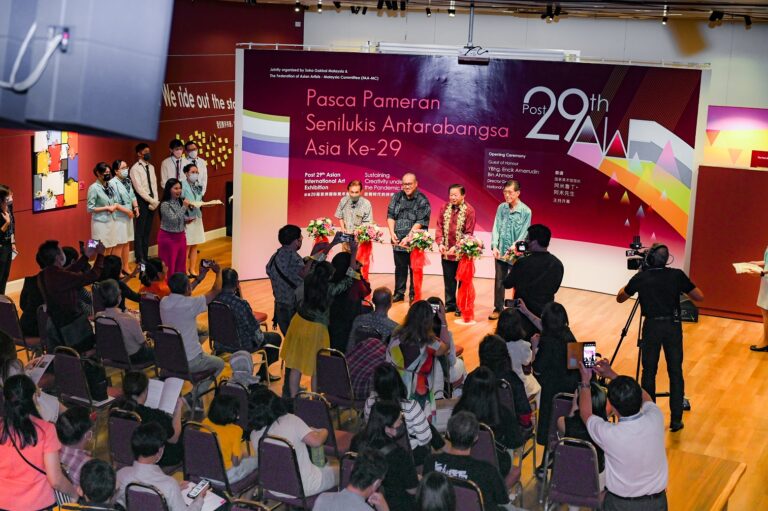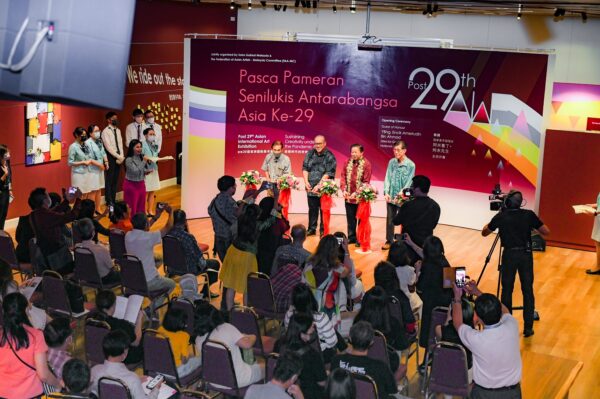 In his welcoming remarks, SGM president Michael Kok lauded their spirit and passion, saying that, "Throughout history, there are great figures who created their best works precisely under the most terrible situations and severe hardships. With their sheer determination, they used the obstacles as catalysts to create masterpieces that have remained for posterity." Mr Kok hoped that such unwavering spirit and passion would be emulated by all.
In his speech, the Chairman of FAA-MC Dr Choong Kam Kow mentioned that this exhibition was a follow up from the 29th AIAE held in Japan in 2021. Back then, the artists could not travel to attend the exhibition physically in Japan due to the pandemic. Hence, this post 29th AIEA exhibition provides the participating artists an opportunity to interact with one another and share their joy and creativity with the public. Dr Choong also hoped that it would inspire and provide new insightful and creative endeavours to the artists.
| | |
| --- | --- |
| Chairman of FAA-MC Dr Choong Kam Kow | Director general of National Art Gallery of Malaysia Amerrudin bin Ahmad |
| | |
Following that, Mr Amerrudin emphasised that art and culture reflect the state of a society; a society without art and culture would lack creativity and vision. Hence, we should all be proud of our local artists for their outstanding contribution as they created these artistic creations in the challenging situations of the pandemic and the Movement Control Order." He also believed that they have broken through themselves and produced even more unique and original works.
The Post 29th AIAE which started on 19 November and ended on 18 December, attracted over 1,100 visitors. In efforts to make it more educational and reflective, art forums and walkthroughs by artists were also held, physically or online. The participating artists were Choong Kam Kow, Awang Damit Ahmad, Amierul Iskandar Hamdzan, Aizat Bin Ahremi, Azlan Bin Ismail, Anna Chin Chui Han, Hamidi Abdul Hadi, Hoe Say Yong, Ng Kim Heoh, Norlisham Selamat, Jack Ting Mui Chii, Tham Siew Moi, June Yap Kwee Yin, Long Thien Shih and Ng Bee. The virtual gallery can also be accessed HERE.