(Aug 27, Kajang) On August 26, New Era University College (NEUC) held a special convocation to confer its inaugural honorary doctorate degree upon Dr. Daisaku Ikeda, President of Soka Gakkai International. This recognition is in appreciation of Dr. Ikeda's advocacy for peace and selfless contributions that have led to positive transformations transcending personal interests, international boundaries and cultures. His ideas and creations have not only enriched the human spiritual realm, but have brought profound impacts to the world.
The ceremony was held in NEUC's auditorium with the presence of more than 550 people including Prof. Dr. Mok Soon Chong, Vice-Chancellor of NEUC, Mr. Lim Joo, acting chairperson of the Board of Directors of Dong Jiao Zong Higher Learning Centre Bhd, Dr. Yap Kon Sang, chairperson of NEUC's Board of Governors, Associate Prof. Azizan bin Othman, Deputy Vice-Chancellor of NEUC.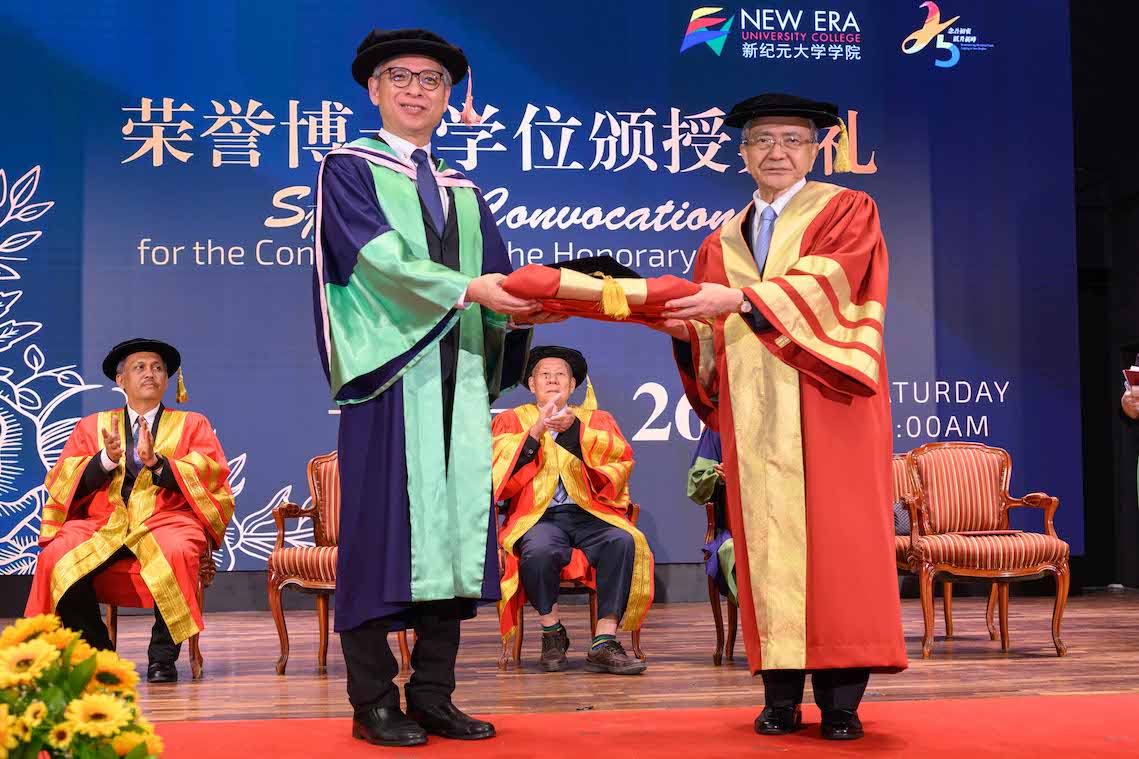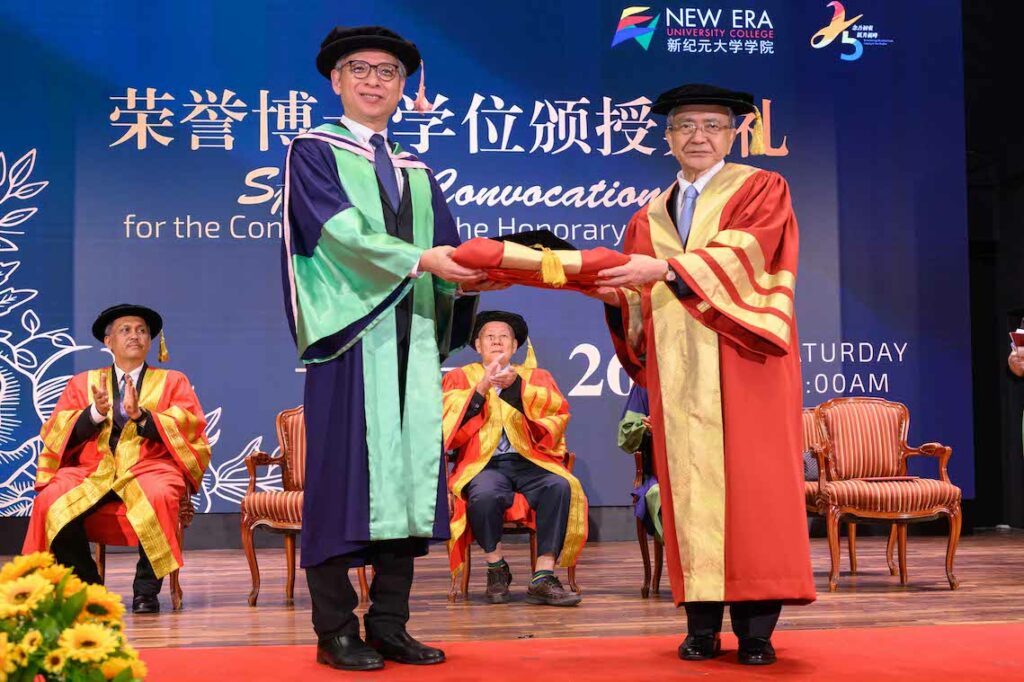 Mr Lim Joo, in his address, said that Dr. Ikeda is "a world figure and has made significant contributions in many areas for the benefit of humankind." Meanwhile, Dr. Yap Kon Sang stated that Dr. Ikeda is one of the people who "has made positive contributions to the development and improvement of NEUC."
In his citation for the conferment of honorary doctorate to Dr. Daisaku Ikeda, Prof. Dr. Mok Soon Chong acclaimed Ikeda as a peacebuilder and a philosopher who has been actively promoting peaceful coexistence among humanity, fostering global solidarity through constructive dialogues. Dr. Ikeda is also an ardent advocate for education, dedicating his life to this great endeavour of nurturing the people, as well as exploring and inspiring human potential.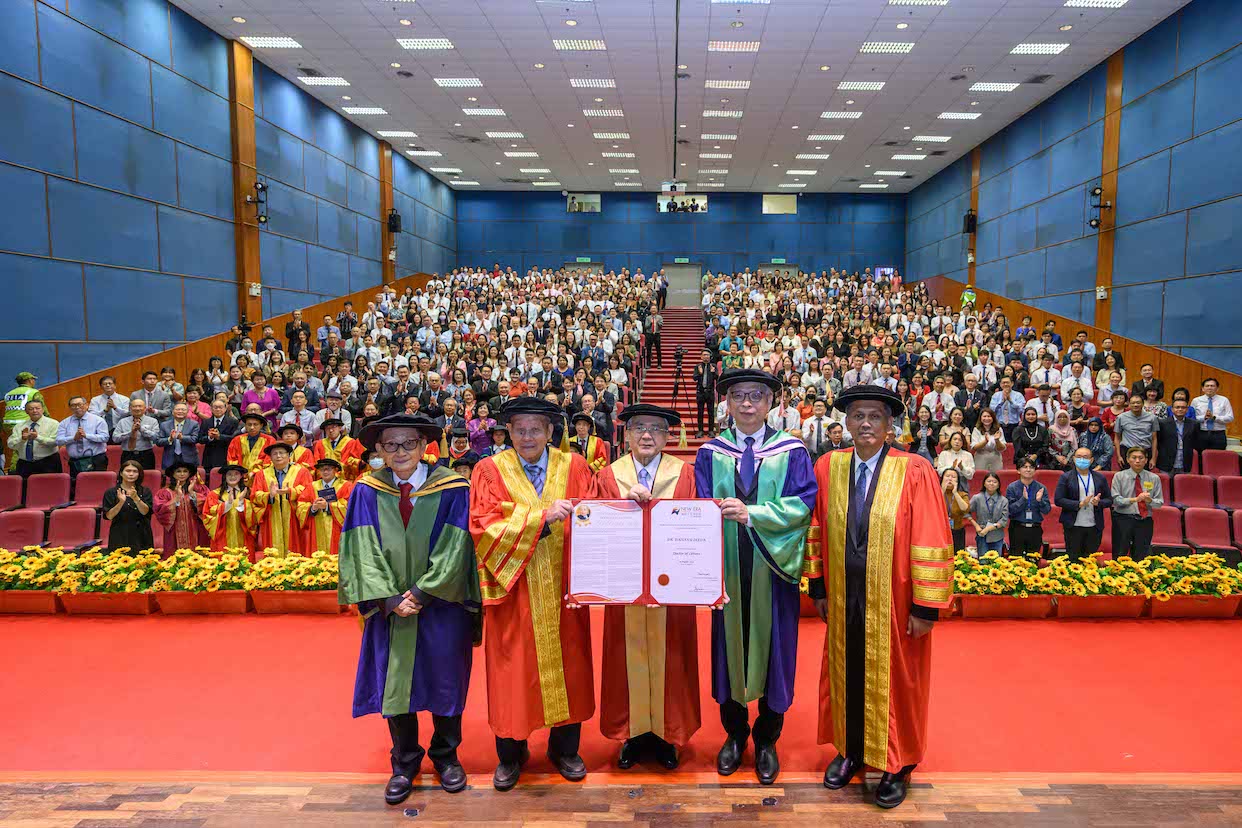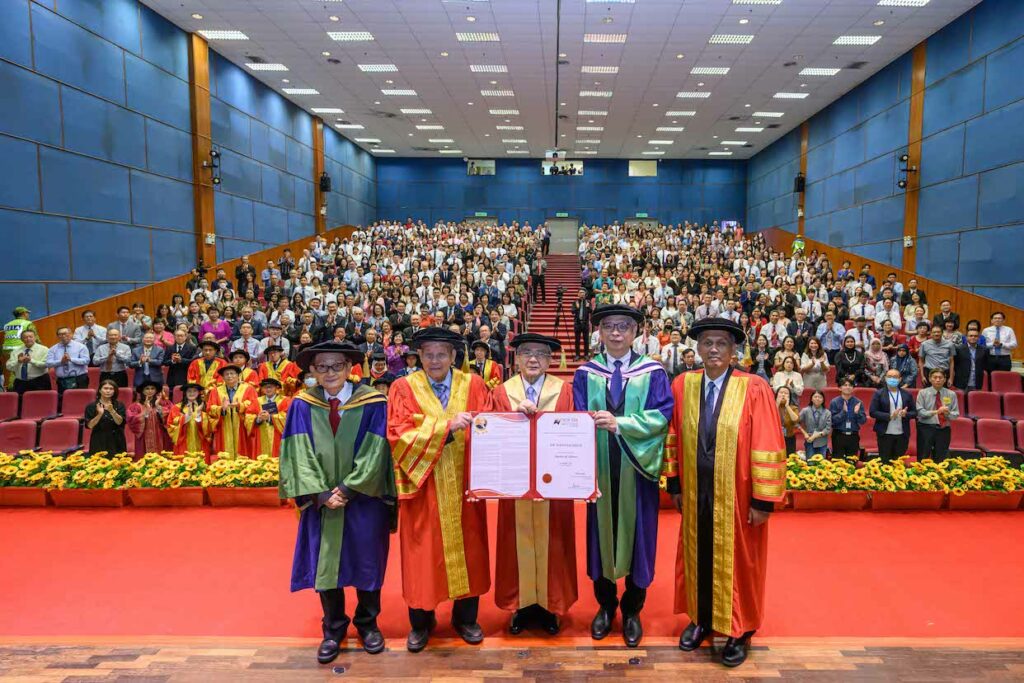 He further said that, New Era University College maintains a close collaborative relationship with Soka University in Tokyo, founded by Dr. Ikeda, and Soka Gakkai Malaysia, which has donated numerous valuable books and magazines to the institution, enriching its library collection. SGM has also generously supported NEUC academic staff in their creative and editorial work, collaborating on the publication of selected works by Dr. Ikeda, and have jointly organised public lectures, offering a rare chance of academic exchanges.
Soka Gakkai president Minoru Harada was present to accept the honorary degree on Dr. Ikeda's behalf. In Dr. Ikeda's acceptance speech, which was read by Mr Harada, he stated that he wishes to offer this honour to his predecessors, first Soka Gakkai president Tsunesaburo Makiguchi and second president Josei Toda, in the same spirit as the Chinese adage yinshui siyuan (饮水思源) – "when you drink water, think of its source."
He also stated that as a member of the NEUC community, he will strive alongside NEUC for the rest of his life "to bring about an eternal victory for humanity through the network of education."