The University of Malaya (UM) Press and Soka Gakkai Malaysia (SGM) will jointly organise the book launching ceremony and book review of "Kerakyatan Planet: Nilai Murni, Kepercayaan dan Perilaku Kita Boleh Membentuk Dunia Berdaya Tahan," the Malay edition of Planetary Citizenship: Your Values, Beliefs and Actions Can Shape a Sustainable World, on June 15 (Thursday), 10.30am, at the Auditorium of Asia-Europe Institute, UM.
Kerakyatan Planet is a dialogue between futurist and environmental activist Hazel Henderson (1933–2022) and Daisaku Ikeda, Japanese Buddhist thinker and President of the Soka Gakkai International. In this book, both authors explore the transformative power of "grassroots globalists" – the ordinary citizens, in taking responsibility to build a more peaceful, harmonious and sustainable future.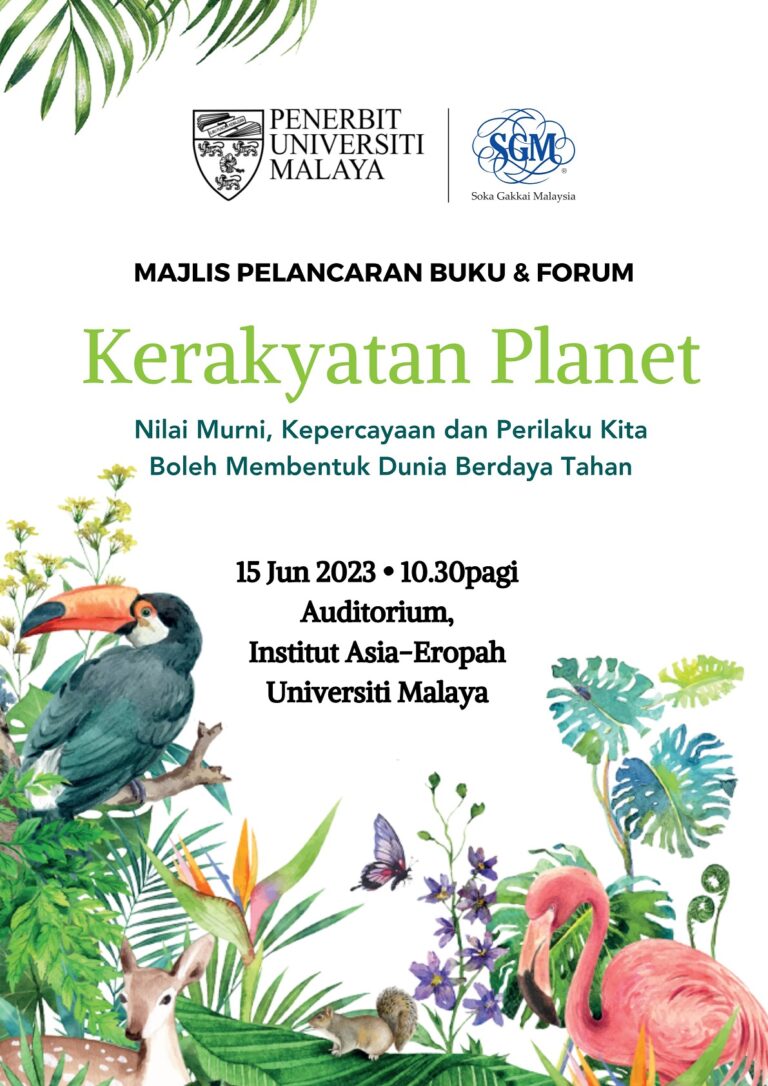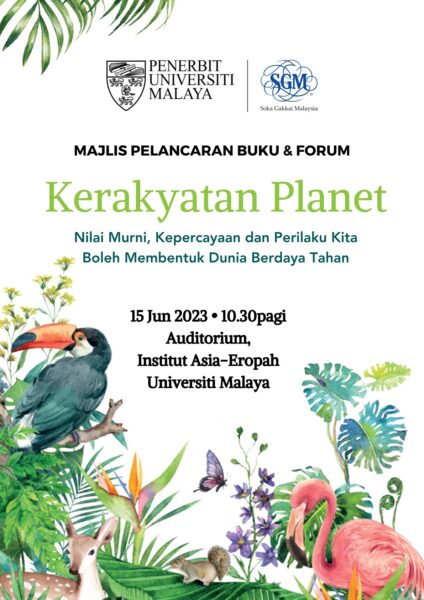 Henderson and Ikeda bring together their unique perspectives to offer a practical yet profoundly optimistic view of human potential in the face of global challenges. Drawing from their personal experiences, including encounters with environmental pollution and the devastating impact of war, the authors share their motivations for advocacy and activism on a global scale.
They discuss the idea that a "global revolution" begins with an inner-directed transformation in human beings. Dr Henderson asserts: "Only the human revolution can reform our views of the natural world, life and values. We have the power to alter our destiny."
Meanwhile, Mr Ikeda states: "Instead of being absorbed in the minor self of the ego, each individual must recognise his or her connection with all life in the cosmos. By doing so, we can escape our obsession with greed, advance along a more compassionate path, and bring about mutual happiness for ourselves and others. I am certain that this is the key to creating a new civilisation founded on the dignity of life."
It is hoped that the profound wisdom of the two authors can inspire readers to embrace their role as global citizens and to start taking action in creating a sustainable future. The dialogue has now been published in eight languages comprising Japanese, English, Chinese (traditional), French, Italian, Malay, Portuguese, Vietnamese.
The book launching ceremony will be officiated by Dr. Nagulendran Kangayatkarasu, Secretary-General of the Ministry of Youth and Sports. Prior to this, he has worked on issues related to biodiversity, biosafety and environment. There will be a book review session following the launching ceremony.
The translator of this Malay edition is Professor Emeritus Dato' Dr. Asmah Haji Omar, an eminent linguist and academician in Malaysia. She has written over 45 academic books on linguistics, edited and translated several dictionaries, and has published numerous articles in renowned journals worldwide. She is a former dean of UM's Faculty of Language and Linguistics and former Fulbright Visiting Scholar.
Book Launching Ceremony and Book Review of "Kerakyatan Planet: Nilai Murni, Kepercayaan dan Perilaku Kita Boleh Membentuk Dunia Berdaya Tahan"
Date : 15 June 2023 (Thursday)
Time : 10.30am–1.30pm
Venue : Auditorium, Asia-Europe Institute, UM
Dress code : Formal
Medium : Malay & English
For enquiries, kindly call: 03-9075 6876 (SGM External Affairs & Communications Department) or email: sgmpro@sgm.org.my