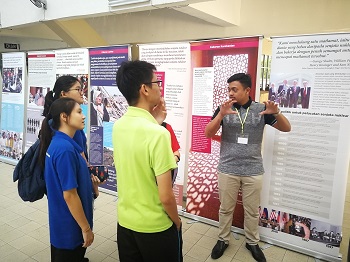 From March 3 to 5, 2019, SGM Terengganu held the "Everything You Treasure – For a World Free from Nuclear Weapons" exhibition at Universiti Malaysia Terengganu (UMT) with student division members forming the main committee.
The exhibition took place in a plaza near the library and dormitory cafeteria. More than 40 students volunteered to narrate for the exhibition.
The aim of this event was to promote the message of peace and raise awareness on the dangers of nuclear weapons to UMT students and staff, besides providing a platform for exhibition viewers to exchange views on related issues. Thanks to the full support from the institution, this exhibition attracted some 1,100 visitors.
On hand to declare the exhibition open was guest-of-honour Assoc Prof Dr Mohammad Fadhli Ahmad, Dean of the School of Ocean Engineering. He expressed gratitude for the committee members' efforts and hoped that the exhibition would enable the audience to realise the importance of protecting our country.