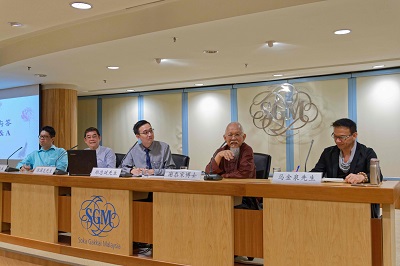 In conjunction with the "Cheah Thien Soong: Emerging Untainted – An Inspiration from the Lotus Sutra" exhibition, SGM held a public forum entitled "Value-Creation of the Lotus Sutra in Arts and Literatures" on March 9, 2019 at Wisma Kebudayaan SGM.
Four panellists led the discussion, namely Dr Cheah Thien Soong, president of Cao Tang Men Eastern Arts Society; Anthony Meh Kim Chuan, managing director of Dua Space Dance Theatre; Chew Chin Chong, treasurer of the Writers Association of Chinese Medium Malaysia and Tan Kok Leong, adviser to the SGM Study Department. They were representing various fields of arts, dance, literature and study respectively.
Dr Cheah shared that he was impressed by the Lotus Sutra due to the lively parables mentioned within which resonated with his life and artworks. Meanwhile, Anthony Meh said that besides obtaining inspiration for his choreography, he was able to solve problems among his team members through studying the scripture.
Chew Chin Hong also mentioned that the LS contains high literary values and special characteristics, which includes a unique writing style, dialogue format, parables, among others. He further said that inspiring hope and courage is the sutra's most commendable feature, and that its dialogue format makes it suitable for adaptation into songs and performances.
Lastly, Tan Kok Leong explained the role of the sutra in the modern world by quoting from "the three meetings in two places," daimoku-chanting, the meaning of Nam-myoho-renge-kyo and other aspects.
The panellists concurred that the Lotus Sutra can manifest the humanistic spirit in any field and create value in life.