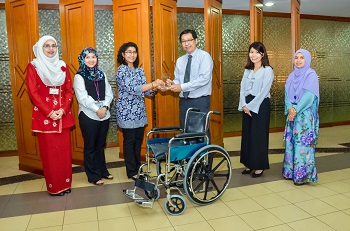 In conjunction with the annual observance of the United Nations International Day of Persons with Disabilities which falls on December 3, the Rehabilitation Medicine Unit of the Department of Orthopaedics and Traumatology, Hospital Canselor Tuanku Muhriz UKM (HCTM; also known as UKM Medical Centre) and Yayasan Prihatin Insan co-organised an International Day of Persons with Disabilities (PWD) Public Awareness Programme on November 29, 2018. HCTM is the academic medical centre of Universiti Kebangsaan Malaysia (UKM).
In line with Soka Gakkai Malaysia's spirit of promoting humanism and compassion, SGM donated four detachable armrest wheelchairs to HCTM, Cheras on February 26, 2019.
On hand to receive the wheelchairs was Prof Dr Amara Naicker Naysaduray, Head of the Rehabilitation Medicine Unit. In her speech, she thanked SGM for the donation and in view that "many of our patients do have a lot of problems in paying hospital bills and buying medical equipment," she said that all forms of donations were welcome.
Representing SGM were Assistant Chief Administrator Looi Chee Choong, Head of SGM External Affairs and Communications Department Joanne Foo and external affairs and communication executive Dawson Yeang. In his speech, Looi said that the wheelchairs were a "humble donation from SGM and we are happy that we can make a difference in the lives of individuals [who will receive them]." Looi also stated that SGM is happy to be partners with HCTM as both organisations "have a common mission or purpose to help people to stand up on their feet again."
The observance of the International Day of Persons with Disabilities aims to promote understanding of disability issues and mobilise support for the dignity, rights and wellbeing of persons with disabilities. It also seeks to increase awareness of gains to be derived from the integration of persons with disabilities in every aspect of political, social, economic and cultural life.