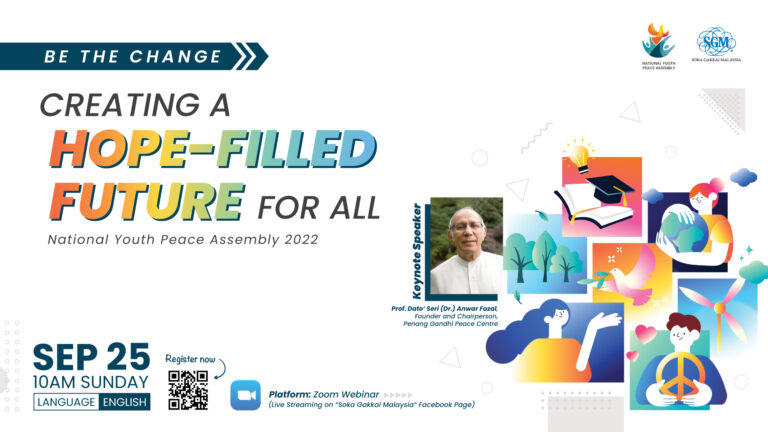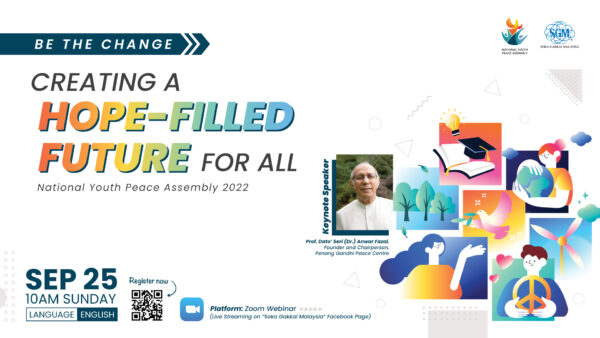 Living in a post pandemic era, humanity continues to face diverse critical challenges, such as climate crisis, poverty, discrimination and nuclear arms race.
But when young people stand together in solidarity, there will be positive change.
Join the NYPA 2022 organised by SGM Youth Division and listen to the voices of young students, presenting their research findings and creative solutions with regard to the issues of:-
1️⃣ Overcoming Climate Crisis
2️⃣ Nuclear Weapons Abolition
3️⃣ Education for All
4️⃣ Economy of Hope and Dignity
Prof. Dato' Seri (Dr.) Anwar Fazal, Founder & Chairperson of Penang Gandhi Peace Centre will deliver the keynote address.
There will also be a short video titled, "We are the Torchbearers of Peace" by SGM High School Division and a special performance.
Register now!
🔗 https://b.link/reg_nypa
Be the Change to Create a Hope-Filled Future for All