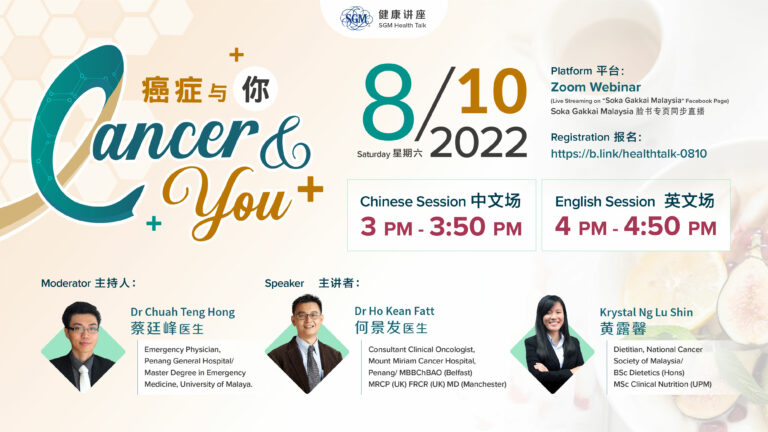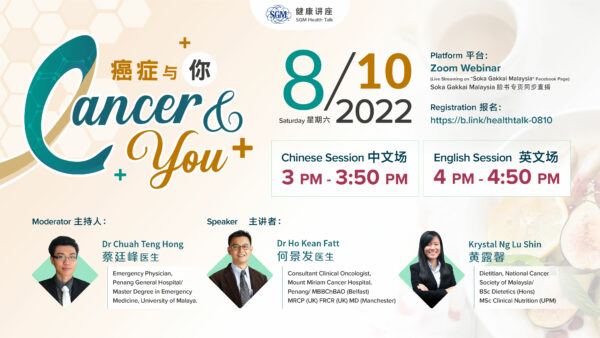 Cancer, no longer an unfamiliar word, is a subject of concern to all. Very often, this disease is associated with the shadow of death.
Let's hear from SGM Beacon Group members about cancer, its preventive measures, and nutrition recommendations for prevention and during cancer treatment.
This is a public health talk. Please feel free to invite your family members, friends and colleagues to join.
Moderator: Dr Chuah Teng Hong | Emergency Physician, Penang General Hospital / Master Degree in Emergency Medicine, University of Malaya.
Speaker: Dr Ho Kean Fatt | Consultant Clinical Oncologist, Mount Miriam Cancer Hospital, Penang / MBBChBAO (Belfast) MRCP (UK) FRCR (UK) MD (Manchester)
Speaker: Krystal Ng Lu Shin, | Dietitian, National Cancer Society of Malaysia / BSc Dietetics (Hons) MSc Clinical Nutrition (UPM)
Registration Link: https://b.link/healthtalk-0810
Should you have any enquiries, please contact: Ms. Christal Mak