Sarawak, or "Land of the Hornbills", has added one more castle of kosen-rufu on its land! In 1997, SGM Sarawak has received two acres of land from the state government. This year, after 22 years of long waiting, the SGM Sarawak Culture Centre is finally been complete.
The grand opening ceremony took place on July 7. Under the warm sun and welcoming from a lion dance performance, SGM General Director Koh Sia Feai, SGM president Michael Kok, SGM women's division leader May Chan, SGM women's division general leader Ow Yin Peng, SGM vice-general director Johnny Ng Teck Sim, East Malaysia women's division area leader Sie Shok Lee, Sarawak Zone leader cum building commission president Tan Chai Hong, Sarawak Zone vice-leader cum representative of building commission Teo Cho Hian and architect Chan Kheng Leong joined the ribbon-cutting ceremony to officially open the new culture centre.
That day, some 380 guests including friends from the neighbourhood, NGOs such as Sarawak Children's Cancer Society, Dyslexia Association of Sarawak, Kuching Life Care Society and The Green Ribbon Home of Love, Kuching and representatives from around the nation were invited to witness the opening.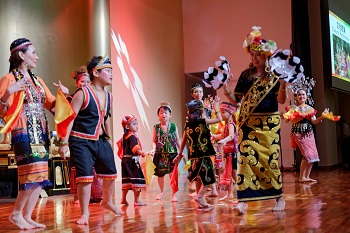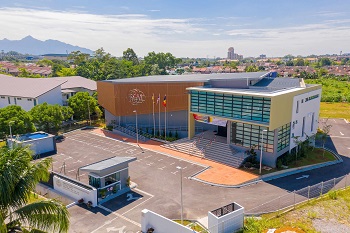 In his congratulatory message, SGI President Daisaku Ikeda congratulated the members "on the birth of this new culture centre in the nature-rich state of Sarawak, which symbolises the wonderful fruition of your [their] noble efforts." He then urged them to make this culture centre as the "treasure castle of happiness", "castle of friendship and trust" and "castle of peace and capable people" where hope-filled people transmit the light of prosperity into the society and foster youth who embrace the contributive spirit.
Later, in his speech, Mr Koh used quotes from President Ikeda's message to encourage the members of SGM Sarawak to "build a castle of Soka that is a role model of worldwide kosen-rufu" through contributing to the community of Kuching and Sarawak. He further urged them to become "good citizens" and form friendly relationships with their neighbours. He then urged the members to gather in unity and respond to the mentor's expectation with total victory in kosen-rufu. He also showed them the seven photographs taken and given by President Ikeda to Sarawak culture centre.
After that, Chan Kheng Leong took the stage and thanked SGM, the contractors and advisory board for their full support in making the opening of this culture centre a great success. Next, Tan Chai Hong shared with guests the origin of this centre and difficulties faced during construction. Then, a video featuring the 40 years of Sarawak kosen-rufu and development was played for the audiences.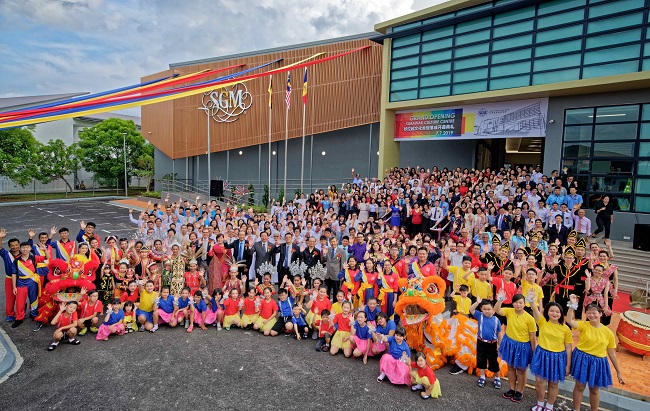 Lastly, the ceremony was adorned with 202 culture group members presenting various performances which included dancing by junior division, traditional Ibanese and Chinese dances, welcoming dance by Young Mrs Group members wearing Sarawakian traditional costume, poetry recital, gymnastics show and choirs. Representatives from SGM Sabah also contributed in presenting a Kadazan dance.
This newly opened culture centre is located at Taman Desa Wira, Kuching which is ten-minutes' drive from Kuching International Airport. The building consists of three levels with one of it under the ground. In the building, there are Ikeda Peace Hall, chanting rooms, meeting rooms, offices, members caring centre and other basic facilities.
Since its ground-breaking ceremony in 2017, members of SGM Sarawak have been upholding the spirit of unity just as what the mentor has urged and successfully introduced some 480 people to Nichiren Buddhism in the past two years. This year, they will also strive their hardest to achieve the "New Dawn Block" and celebrate their victory in this long-waited culture centre.