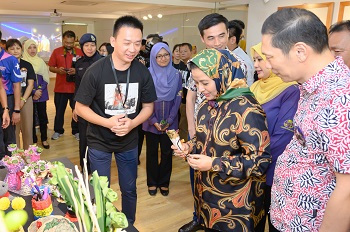 On July 20, 2019, the "Program Kembara Mahkota Johor 2019", an annual commitment by the Johor royal family to meet Johoreans throughout the state, was officially launched. The 22nd edition of this tour kicked off in Pontian.
When the tour reached Muar, local artists from diverse backgrounds were gathered at Muar Art Gallery to hold various cultural activities for further exchanges. SGM Johor took part in a handicrafts exhibition where they presented handicrafts such as dolls made from socks, paper crafts, and decoration using pandan leaves.
Besides that, the kompang team was also invited to perform in welcoming Permaisuri of Johor Raja Zarith Sofiah to the gallery. Later, she even showcased her skill in calligraphy.
This programme enveloped Johor's Royal Town with abundant cultural ambience.