On July 20 and 21, SGM held a student division and future division training course themed "Building Humanity's Future – The Noble Endeavour of Fostering the Next Generation" at the SGI Asia Culture and Education Centre (ACEC) in Johor Bahru. Some 200 persons-in-charge of the divisions from around the country attended the course. In SGM, the future division consists of the high school and junior divisions.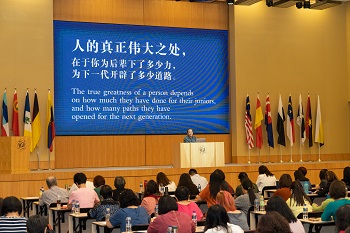 SGI President Ikeda sent a verbal message expressing his warmest regards for the participants. In his opening speech, SGM youth division leader Chia Kok Peng stated that all participants have a great mission, as fostering the emissaries of the future is the key to ensuring SGM's eternal development.
Men's division leader Dr Christopher Boey and women's division leader May Chan held a study session – in English and Mandarin respectively – based on President Ikeda's lectures on the Gosho. They spoke about requirements to become successors and President Ikeda's actions and goals in fostering youth.
Young men's division leader Andrew Looi and young women's division leader Magdelyn Choo shared the plan and direction for fostering youth. Following this, representatives from the junior, high school and student divisions went onstage to share their struggles in fostering members of each division. The participants later broke into their respective divisions for discussions and group study.
The following day, future division leader Siow Yoon Kee and young women's student division leader Elaine Lai held a study session themed "The Justice of the Three Founding Presidents of the Soka Gakkai." Student division leader Chang Chung Bin and young women's future division leader Lim Lee Fen also took the stage to discuss building a castle of capable people, using learning points from The New Human Revolution.
Finally, in his speech, General Director Koh Sia Feai emphasised on the importance of the student and future divisions members being "treasures of the world," and that fostering them is a most arduous, yet supremely noble endeavour. Mr Koh encouraged the participants to never be fearful of taking up challenges and to always keep training themselves. He also urged them to share President Ikeda's guidance with members of these three divisions so that they too will advance valiantly on the path of mentor and disciple, thus succeeding the great endeavour of kosen-rufu.
Over the duration of the training course, participants sang in unison the songs of each division, such as "Be Brave" (junior division), "Torchbearers of Justice" (future division) and "Courageous Successors" (student division), lifting the spirits of the participants.