As part of the graduation journey, Tadika Seri Soka (TSS) held a fun and exciting graduation camp for the six-year-old children on July 5 and 6, 2019 on the kindergarten grounds. Some 120 children joined this two-day camp.
In the opening ceremony, TSS principal Mdm Lye Loy Hou warmly welcomed all the children. She reminded them that all the activities were based on teamwork; hence they should always work together with their teammates. She also hoped that they would enjoy the activities to the fullest.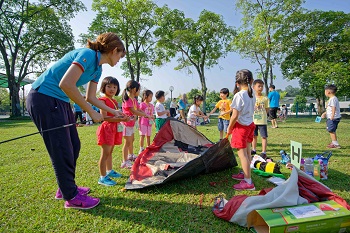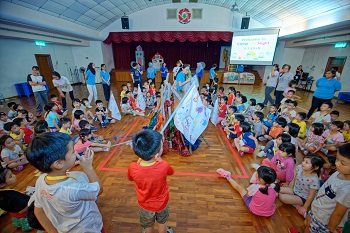 In the camp, the children were encouraged to be independent and work things out on their own, or cooperate among themselves. Among the tasks they carried out were learning how to assemble and dismantle a camping tent, arrange their beds, serve meals, and preparing their own morning snacks.
They also tried out various "adventurous" tasks such as eating food they usually dislike and making new friends from other classes using name cards. Teachers also noted down the things the children hoped to challenge, which the children later wrote down on a hand-made "My Crown of Determination."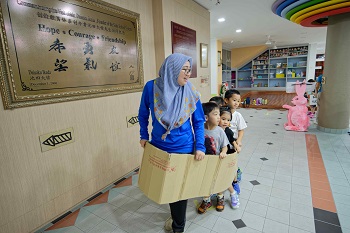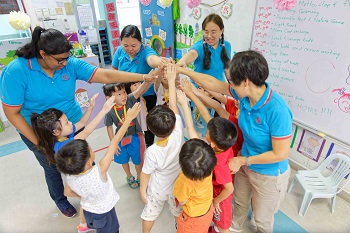 TSS teachers, staff and volunteers also prepared activities to help children learn how to protect Mother Earth. On Day 1, they had a "camp fire night", and played games such as "Carpool", "Exploring in the Dark" and "Plastic." The following day, they carried out more activities based on the theme "Let's Protect Our Only Home – Mother Earth." They planted onions, made their own recyclable bags and handicraft out of recycled material. Teachers helped the young environmental champions to understand the idea of reusing and recycling.
Though some of them were hesitant about the activities in the beginning, in the end, they all had great fun and were excited to be part of this camp, which will become one of their most precious memories.