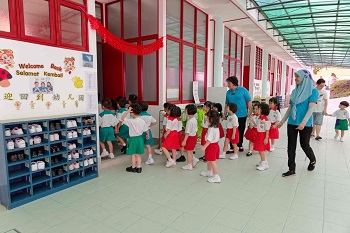 On January 2, 2020, Tadika Seri Soka (TSS) held its 26th entrance ceremony for 126 new princes and princesses at its temporary school premises at the repurposed dormitory of the SGM Culture Centre, Cheras.
The students were seen having fun with teachers where they sang songs and danced happily, enjoying their first day of school with people around them.
The teachers introduced TSS founder Daisaku Ikeda and read out his congratulatory message. The founder expressed his earnest wish for their growth and hoped that in the future, all of them will work together with people around the world to create a peaceful and happy world.
Later in her speech, TSS principal Mdm Lye Loy Hou encouraged the children to learn and play as much as they could, grow into better persons and make lots of friends. She also expressed her appreciation to the parents for their trust in the school by sending their children here. She promised that the school will provide a safe and positive learning environment for the children.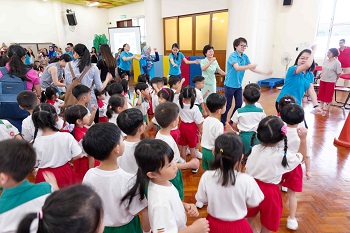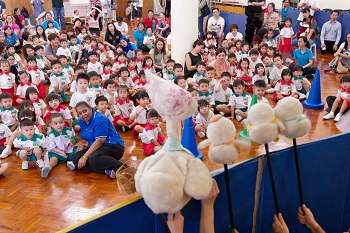 Following that, TSS board member Ow Yin Peng, who was representing the board's chairman Prof Dato' Dr Christopher Boey, congratulated the children for joining TSS. She expressed her hopes for their happiness, health and victory and that they will all become "happy heroes."
Lastly, the teachers presented a puppet show themed "Follow the Teacher" to let the children quickly adapt to life in TSS.