On January 11, 2020, SGM young women's division (YWD) held its nationwide general meeting at the SGM Culture Centre which was also broadcasted live to 24 venues around the nation. In total, 655 YWD leaders attended the meeting.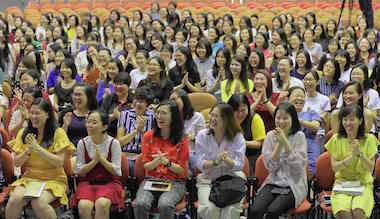 The first session was attended by region, zone, state, area and national YWD leaders. SGM YWD Secretary Chuah Yee Siang reported on the current state of the YWD organisation and emphasised the importance of fostering capable people.
Next, SGM YWD leader Magdelyn Choo Paik Hwei reviewed the YWDs' current situation and proposed solutions for the issues mentioned. She announced new goals and encouraged the participants to advance with the spirit of the oneness of mentor and disciple, and grow through study and manifesting courage.
The second part of the meeting began with the participation of chapter, district and block leaders.
In his congratulatory speech, SGM General Director Koh Sia Feai praised the YWD for being the first division to hold a general meeting. Echoing SGI President Daisaku Ikeda's guidance, he encouraged them to make study their foundation and strive harmoniously to achieve SGM's goals.
The YWD leaders also presented some fresh and lovely dances, which enlivened the atmosphere of the night.
Lee Hooi Min, a chapter leader from Selangor, and SGM YWD vice-leader Koay Suat Erh shared their inspiring experiences in faith.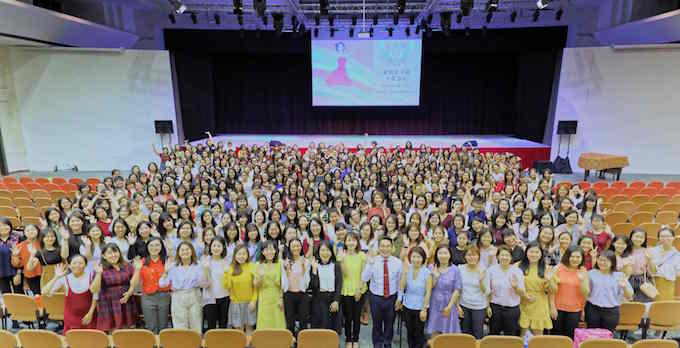 Next, drawing from her own experience of conducting home-visits, YWD general leader Ng Lay Kian stressed that the essence of faith is to enable others to achieve happiness. She quoted passages from The New Human Revolutionand said that capable people are those who have realised their mission as emissaries of kosen-rufu who will always challenge themselves by setting new goals.
Lastly, Magdelyn Choo introduced ways to strengthen the organisation. She emphasised the importance of remembering members' names, doing home-visits and giving personal guidance. She hoped that every YWD member will uphold pure faith throughout their lives and achieve true happiness.
Also present was SGM youth division leader Andrew Looi who stated that the young men's division members will give their full support to YWDs.