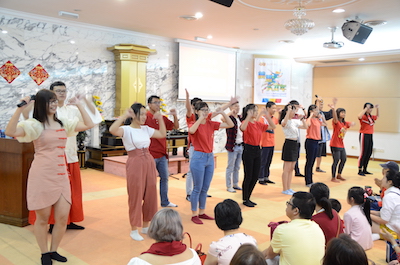 Negeri Sembilan
On the January 25, first day of the Year of the Rat in the lunar calendar, SGM held Chinese New Year gongyo meetings at 42 centres nationwide. Some 17,000 people, consisting of SGM members and their families and friends attended these joyous gatherings.
The meetings kicked off with vibrant daimoku and gongyo, with participants praying fervently for world peace and the happiness of humanity.
At the SGM Penang Culture Centre, youths read out SGI President Daisaku Ikeda's message for the 2020 New Year's gongyo meetings and New Year's poems. He stated that "Our societies and the world are waiting for the advancement of Soka humanism and for our capable people who champion peace, culture, and education." President Ikeda further urged members to "overcome all hardships and perform a dance of joy at the progress we are making in our human revolution." (See FLOW No. 720 for the full message.)
The martial arts culture group and members of the four divisions performed several shows, further enlivening the joyful gathering.
In Pahang, Eastern Area leader Lim Tee Yen encouraged the participants to create experiences in faith and share them in discussion meetings. He also asked them to expand the movement of encouraging people and sharing happiness, and take on the challenge of innovating the discussion meetings. Members of the culture groups and junior division added more spark with their performances, which included a lion dance and other dances.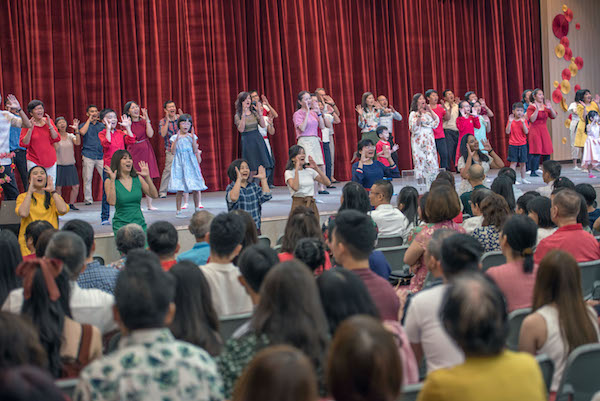 Penang
SGM General Director Koh Sia Feai attended the meeting held in Negeri Sembilan, where he expressed his appreciation for the members efforts in the previous year, which saw SGM achieving a new kosen-rufu milestone.
He urged attendees to cherish each day that we are able to strive alongside our mentor. Since the Soka International School will be established in Negeri Sembilan, Mr Koh also encouraged members here to strive harder in sharing Nichiren Buddhism and fostering capable people in order to solidify the foundations here.
In light of the various turmoils that the world is facing, he also asked members to strengthen their conviction that Nichiren Buddhism is the Buddhism of the sun that has the power to transform all ill karma, and wished that all members enjoy a victorious year ahead.