Each year, around International Children's Day which falls on November 20, Tadika Seri Soka (TSS) will conduct important activities for its students that aim to nurture gratitude in their lives. Previous activities included children preparing food alongside their parents, and teachers speaking about the lives of children in other parts of the world.
In 2017, the children learned about fire safety on the grounds of TSS on Children's Day itself. In addition to learning of the responsibilities of fire fighters, they also learnt about what they should do should a fire break out, such as proceeding to a designated assembly point under the instruction of teachers.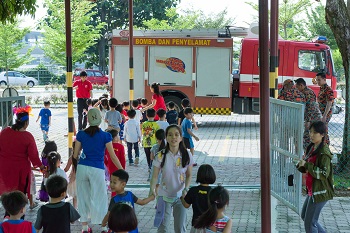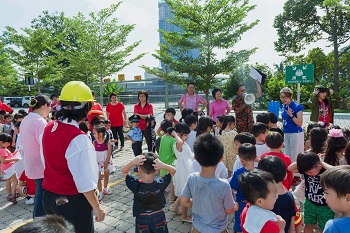 In addition, the fire-fighters who conducted the safety training also let the children take a ride on the fire engine they drove to TSS, and showed them how fire extinguishers are used. When the fire-fighters successfully put out a mock fire, they were applauded by the children.
They also learnt the "stop, drop and roll" technique in putting out fires should their bodies catch fire, and other pointers on fire safety that can help save lives. This was truly a meaningful Children's Day for the TSS community.