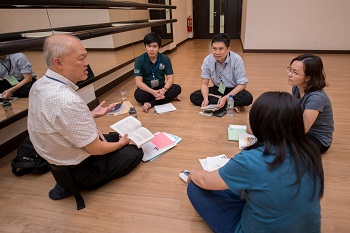 On November 18 and 19, 2017, the SGM Justice Group held its fifth training course at the SGM Penang Culture Centre in Bayan Lepas, Penang. Twenty-one group members from Kuala Lumpur, Selangor, Ipoh, Melaka, Penang and Sarawak participated in this training course held under the theme "Unite and Stand Up for Justice" and in conjunction with Soka Gakkai Founding Day.
SGM General Director Koh Sia Feai sent a congratulatory message to the gathering, and SGI President Ikeda's speech for the tenth anniversary of the founding of the Justice Group in 2015 was also read out. In his message, President Ikeda quoted Gosho "You must not spend your lives in vain and regret in for ten thousand years to come,"(WND-1, p. 622) and reminded the participants to courageously and tenaciously deal with challenges that arise in their daily lives, achieving absolute victory.
Participants also studied the "Justice" and "Great Mountain" chapters of The New Human Revolution. The participants discussed eternalising the Soka Gakkai, uniting based on faith to defeat devilish functions that aim to obstruct, sharing Buddhism with others and winning in life.
In the evening of the first day, participants attended an experience sharing meeting with SGM Penang members, where they heard two moving experiences. The following day, SGM Vice-General Director Johnny Ng conducted a study on the Gosho "The Heritage of the Ultimate Law of Life." The Gosho study drove home the importance of spreading Buddhism in the spirit of many in body, one in mind and strengthening faith in the Mystic Law.
Justice Group members then made a pledge to resolutely protect SGM against the onslaught of devilish functions. Before wrapping up the training course, the group's members conducted a free legal clinic for SGM members, providing consultation for issues such as family disputes and real estate.