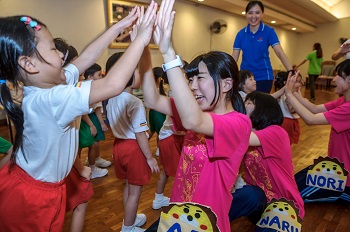 For the last 16 years, students of Soka University, Japan (SUJ) have been visiting Tadika Seri Soka (TSS) for heart-to-heart exchanges. The students of these two institutions founded by Daisaku Ikeda have established a strong bond for the sake of fostering capable people who contributes to society.
On February 16 and 17, a SUJ delegation of 20 students led by Prof Fumiko Kakuta and Prof Yoko Koyama visited TSS where they were warmly welcomed by the bright and cheerful children of TSS and their teachers.
The SUJ delegation and their little brothers and sisters came together as one under the sounds of laughter and music, dancing joyfully and establishing warm bonds. SUJ students shared children's stories written by the founder to encourage the children on the importance of friendship and spreading the message of hope and courage. They later also presented tokens of friendship to their little brothers and sisters.
The SUJ students, especially those visiting TSS for the first time, shared on how they were impressed and encouraged by the sincerity of the TSS children. They believe that the bonds they have established via this visit will last a lifetime.