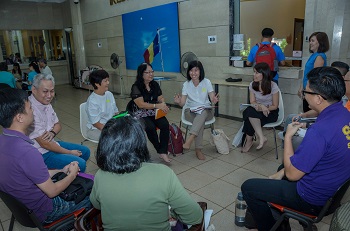 The Gosho is the collection of Nichiren's writings and teachings. Gosho study sessions are one of the key activities of SGM. In order to strengthen further the ability of SGM leaders to present Gosho study sessions, the SGM Study Division held a Gosho lecturers workshop for SGM Kuala Lumpur at the SGM Culture Centre on February 26. This workshop would also be held in other states within this year.
Over 350 leaders attended this workshop. In his opening address, SGM Kuala Lumpur General Region Vice-Leader Chang Meng Keng stressed the important of conducting Gosho study sessions imbued with the mentor-disciple spirit.
SGM Study Division Leader Tan Kok Leong spoke on "How I Read the Gosho", where he shared on the key points of preparing for a Gosho study session. He spoke about the correct attitude when reading the Gosho, and to prepare a session based for the sake of raising capable people, spreading Buddhism, refuting evil and instilling the mentor-disciple spirit.
In the following small group discussions, participants spiritedly discussed topics such as the joys of sharing the Gosho, strengthening our own faith through the Gosho, expanding kosen-rufu through studying the Gosho and applying its teachings in daily life.
The workshop provided a fresh new start for the Gosho study lecturers to conduct Gosho study sessions in the Year of Developing Youth in the New Era of Worldwide Kosen-rufu.