SGM Selangor was awarded the Klang Municipal Council's "Prihatin 2011" award for its outstanding contribution to the welfare of the state. The ceremony, which was held at Premiere Hotel, Klang on October 6, 2011, was hosted by the Menteri Besar of Selangor YAB Tan Sri Dato' Seri Abdul Khalid Ibrahim. In his address, the Menteri Besar valued SGM's efforts and encouraged SGM to further continue its good work in contributing to society.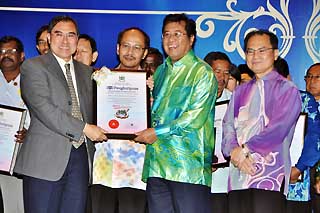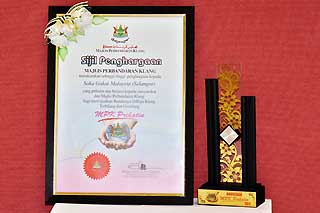 In his speech, the Acting Yang Di Pertua of MPK Tuan Mohd Ikhsan bin Mukri related that he has also attended the "Run for Peace 2011" on October 2 organised by SGM Selangor. He praised SGM Selangor for the effort and hoped that it would continue to work closely with MPK for the benefit of the community.
This is the second time SGM Selangor received an award from the Selangor state government. The previous occasion was on July 4, 2005 with the "Anugerah Pendukung Seni Budaya" award. These two awards is in recognition of SGM Selangor's contribution to culture, welfare and peace in the state. This time round, some 60 companies, NGOs and individuals were also awarded by the Selangor state government in appreciation for their concern and contribution to the welfare of the society.