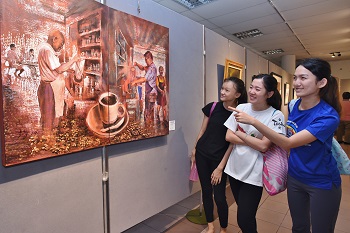 From December 14 to 22, 2019, SGM Selangor collaborated with Klang Artist Society to hold the annual exhibition themed "Art For Peace – A Beautiful Klang" at its culture centre. On hand to officially open the exhibition on December 15 was Klang Municipal Council councillor Jacky Ng Chee Eng, who was representing Selangor executive councillor YB Dato' Teng Chang Khim.
After the opening, a calligraphy demonstration session was held in conjunction with the coming Chinese New Year. Other side activities were also held, including an art talk on "The Implied Meaning of Chinese Paintings on the Four Nobles – Orchid, Chrysanthemum, Plum Blossom and Bamboo", conducted by Klang Artist Society adviser Goh Boon Cheng.
A total of 500 people consisting of artists, members of the public and SGM members attended the exhibition.