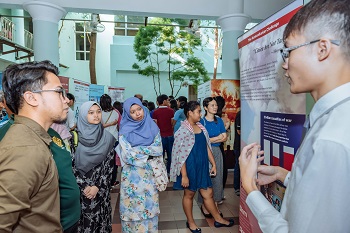 "Everything You Treasure" exhibition
On September 2, 2018, SGM Selangor held the "2018 Peace Forum" at the SGM Selangor Culture Centre. This is their 16th year in organising the forum by SGM Selangor Student Division members.
This time, renowned Malaysian historian and Buddhist scholar Prof Lai Kuan Fook and Prof Emeritus Tan Sri Dr Dzulkifli Abdul Razak, Rector of International Islamic University Malaysia were on hand to give keynote speeches in the Mandarin and English sessions respectively, which were held at separate venues.
In his speech, Prof Lai commented on human rights and nuclear weapon issues mentioned in the Peace Proposal. He said that the nuclear disarmament campaign advocated by SGI President Daisaku Ikeda Soka Gakkai International (SGI) has successfully demonstrated that peace is possible and violence is unacceptable. He expressed hopes that President Ikeda's peace ideals can gain greater momentum in Malaysia and that people from different faith backgrounds can work more closely to achieve peace.
In his speech, Tan Sri Dzulkifli touched on achieving the Sustainable Development Goals (SDGs), an issue also highlighted by President Ikeda in his Peace Proposal. He said that the sustainability of future developments can be assured by achieving a balance among Planet, People and Prosperity (3P) or in other words, the environment, society and economic activities. He also stressed that the youth play very important roles in achieving this.
| | |
| --- | --- |
| | |
| Prof Emeritus Tan Sri Dr Dzulkifli Abdul Razak | Prof Lai Kuan Fook |
| | |
Following the keynote addresses, SGM Selangor youth went on stage to share the key points of the 2018 Peace Proposal in a lively, engaging manner, demonstrating their grasp of the issues discussed.
In his closing remarks for the Chinese session, SGM General Director Koh Sia Feai urged all youth to always remember Mr Toda Josei's stern reminder, which is to develop wisdom that can "rip out the claws [of evil] that lie hidden in the very depths" of the human heart and to wholeheartedly expand the movement for peace alongside President Ikeda.
In the English session, SGM Vice-President Prof Christopher Boey also encouraged the youth to start having dialogues with people around them and discuss possible solutions to these global issues together.
| | |
| --- | --- |
| | |
| Green lifestyle for sustainable development | Forum on refugees empowerment projects |
| | |
In addition to the Peace Proposal presentation, there were several side activities, such as the "Everything You Treasure – For a World Free from Nuclear Weapons" exhibition; non-governmental organisations setting up booths to showcase adopting a green lifestyle for sustainable development and a special forum on refugees empowerment projects.
The last item was a joint presentation by Siti Sarrah Abdul Rahim, project coordinator at Persatuan Jaringan Islam Global Masa Depan (JREC); Shamil Alauddin of Mercy Mission Malaysia and Teoh Min Chia, co-founder of E-Illuminate. They spoke about their activities in assisting refugees to live with dignity in Malaysia.
The entire event attracted over 1,200 visitors from all walks of life. Other distinguished guests included Prof Dr Raihanah Abdullah, Dean of the Humanities Research Cluster and Professor of Syariah and Law at the University of Malaya, and Commissioner of the Independent Permanent Human Rights Commission (IPHRC) of The Organisation of Islamic Cooperation (OIC); Dr Zulkifly Baharom, CEO of the Sejahtera Leadership Initiative, students from institutions of higher learning and others.