Since 1985, SGM has been often invited to participate in National Day celebrations on August 31 at the national and state levels, realising President Ikeda's guidance to become good citizens.
This year, eight SGM state branches participated in the 61st National Day celebration themed "Sayangi Malaysiaku" (Love My Malaysia) at national- and state-level celebrations and parades in various states.
In total, some 600 SGM members from Kuala Lumpur, Perak, Penang, Pahang, Sabah, Melaka, Johor and Selangor celebrated this festive event with the public at nine different locations.
On August 31, an estimated 300,000 Malaysians gathered at Dataran Putrajaya to celebrate this meaningful day. His Majesty the Yang di-Pertuan Agong, Sultan Muhammad V, Prime Minister YAB Tun Dr Mahathir Mohamad and wife Tun Dr Siti Hasmah Ali, and Deputy Prime Minister YAB Datuk Seri Dr Wan Azizah Wan Ismail were present at the national-level celebration too, alongside her husband, Port Dickson MP YB Datuk Seri Anwar Ibrahim.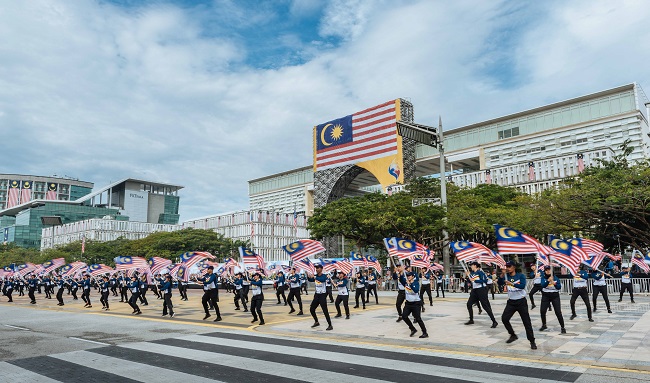 Seventy-nine SGM KL Youth Division members were involved in the opening and closing performances. Together with 600 performers from the National Department for Culture and Arts (JKKN), Kuala Lumpur City Hall and others, they presented dances that represented the unity among the people. The performances received positive responses which enlivened the atmosphere.
When interviewed, JKKN Director-General Tan Sri Norliza Rofli praised SGM youth for their wonderful performances and that not only they had embodied the spirit of true Malaysia for the show, but during the training and rehearsals too they showed good discipline. She also mentioned that she was proud with SGM youth and expressed her deepest gratitude to SGM for having cooperated with JKKN since 2007.
Meanwhile, YBhg Datuk Rashidi Hasbullah, Secretary-General of the Ministry of Tourism, Arts and Culture (MOTAC) said that SGM youth's performances were brilliant and that culture is crucial in unifying people. Datuk Rashidi participated in the 2017 Run for Peace event held at Kota Iskandar, Johor.