March 8, International Women's Day, is celebrated worldwide with various events that lauds the roles and efforts of women in our daily lives. In Malaysia, governmental and non-governmental bodies too hold various events celebrating the contributions of women, and explore how men and women can work in harmony for the wellbeing of humanity.
On this day, the University of Malaya (UM) held the "Women as Agents of Change and Peace: An Intercultural Dialogue" event at the auditorium of UM's Faculty of Education. This event was held under the auspices of the World Interfaith Harmony Week and was held with support from UM's Centre for Civilisational Dialogue, and sponsored by Bank Islam and Soka Gakkai Malaysia (SGM).
The event consisted of two parts: the first part contained two sessions of dialogues and exchanges, while the second part was a film-viewing session that featured the film The Open Sky by film-maker Kyal Yi Lin Six. The film revolves around the friendship between two women of different faith traditions in the midst of ethnic conflict in their community. Following the film, local film-maker and activist Anna Har moderated a discussion.
The opening speech for this event was delivered by Prof Dr Shaliza Ibrahim, UM's Deputy Vice-Chancellor (Research and Innovation). She spoke of the importance of empowering women, and that humanity is one family. Unity, integrity and conciliation is crucial in preserving peace and harmony of this family.
The first session was a forum titled "Intercultural Dialogue: Challenges and Solutions" that was moderated by Prof Dato' Dr Christopher Boey, Deputy Dean of the Faculty of Medicine, UM and Chairperson of the Board of Directors, Tadika Seri Soka. The panellists were Prof Dato' Noor Aziah bt Hj Md Awal (Professor of Law, Universiti Kebangsaan Malaysia), Dr Niloufer Harben (from World Community for Christian Medidation, Malaysia), Sister Loh Pai Ling (President, Buddhist Missionary Society Malaysia), and Mrs Indira Haridas (Exco member, Initiatives for Change). The speakers spoke about how women from different faith groups can contribute to peace and harmony.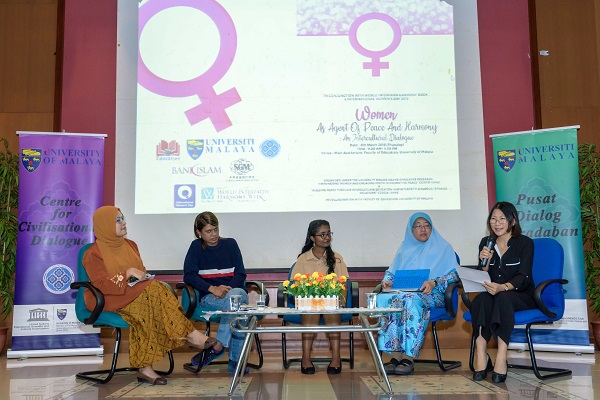 The second session was a sharing session of inspiring acts of intercultural, witnessed or experienced first-hand. One of the four panellists was SGM Women Division Vice-Leader and UKM lecturer Assoc Prof Dr Angela Ng Min Hwei. She spoke on witnessing her mother forming friendships from different ethnic groups primarily through learning how to cook the dishes associated with the ethnic groups when their family was living in government quarters. The other panellists included an academic, journalist and university student. They spoke about their personal experiences in intercultural relations in their environment, such as their family and workplaces.
Both sessions clarified the significance of the role women plays in society and pointed out that they way forward for peace and harmony is to strengthen the role of women as peacemakers.