On March 9, a delegation of 23 students from Soka University Japan (SUJ) led by Prof Ichiro Sugimoto visited Tadika Seri Soka (TSS). They were warmly welcomed by the bright and cheerful students and their teachers. The visit was part of the SUJ students' fieldwork.
Different batches of students from this faculty have been visiting TSS for the last few years to conduct educational exchange with their younger brothers and sisters in TSS. The students of these two institutions founded by Daisaku Ikeda have established a strong bond among themselves for the sake of fostering capable people who will contribute to society.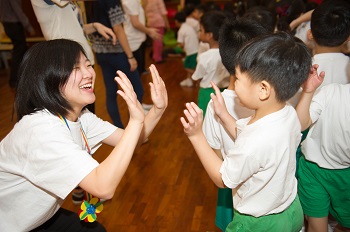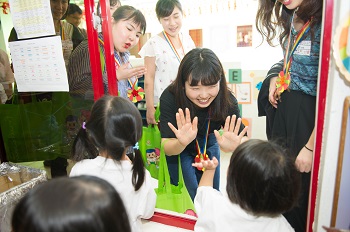 TSS children welcomed the visitors with lively exercise movements, and the visitors reciprocated by teaching them and leading a dance. The children were delighted and every one roared with laughter when the SUJ students played a "Guess the names of the animals" game with them. The big brothers and sisters also prepared origami crafts for them as tokens of friendship.
The SUJ delegation and their younger brothers and sisters came together as one under the sounds of laughter and music, dancing joyfully and establishing warm bonds. They were impressed and encouraged by the sincerity of the TSS children and believed that the bonds established during this visit will be lasting.