For the sake of strengthening the faith of Youth Division members in Nichiren Buddhism, SGI Council Member Dr Akash K. Ouchi conducted a study meeting for SGM Youth Division members nationwide on March 4 at the SGM Culture Centre via live broadcast to 26 venues nationwide. This study meeting drew a total of 1,632 participants.
Drawing from "On Establishing the Correct Teaching for the Peace of the Land", he spoke about the significance of shakubuku for society. The significance of shakubuku lies in increasing the ranks of people who uphold the philosophy of the sanctity of life and practise a humanistic philosophy.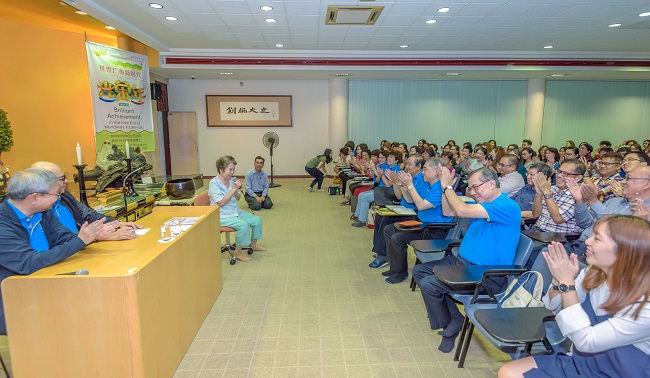 March 4 at SGM Culture Centre with Kuala Lumpur Region 3 members
Dr Ouchi also spoke on "faith for overcoming obstacles", drawing from the examples of the Ikegami brothers in "Letter to the Brothers." He further described the valiant efforts of President Ikeda and his mentor President Toda in striving against devilish functions. In speaking about the ten types of troops or ten armies of the devil king, he encouraged the youth to use the "sharp sword of faith" to overcome all obstacles in their way and defeat the workings of devilish functions.
On March 5 and 6, Dr Ouchi conducted study meetings at the SGM Kuala Lumpur Culture Centre and the SGM Selayang Centre respectively, wholeheartedly encouraging participants to develop strong faith to combat devilish functions and carry out vibrant shakubuku. He also had heart-to-heart dialogues with members of the Student Division and Youth Division, enabling them to strengthen the foundations of their faith and dedicate themselves to shakubuku.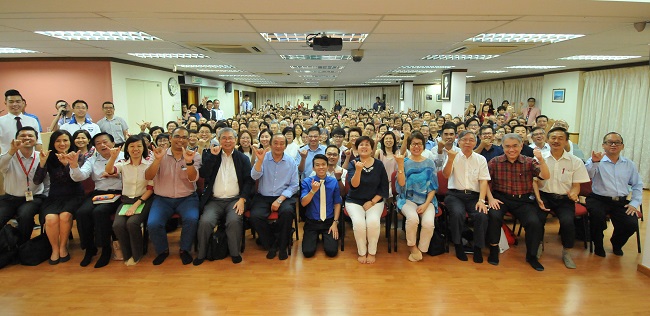 March 6 at SGM Selayang Centre