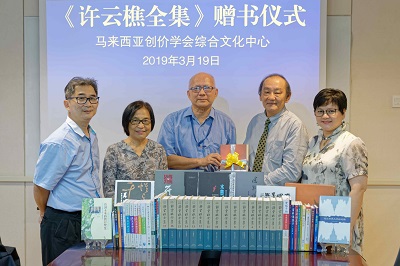 On March 19, 2019, five representatives from LLG Cultural Development Centre (LLG) visited Wisma Kebudayaan SGM, where they were welcomed by eight SGM representatives led by General Director Koh Sia Feai. LLG was founded in 1985, not long after the passing of educationist Lim Lian Geok, for the sake of activities dedicated to promoting culture and education, and publications of related material.
Mr Koh expressed his admiration of LLG as both LLG and SGM share the goal of promoting education and culture. He then introduced Hsu Yun Tsiao (1905–81), a leading scholar on research regarding Southeast Asia, and the inspiration behind the publication of The Complete Works of Hsu Yun Tsiao, an endeavour that aims to benefit society.
In a speech on behalf of Chairman Lau Chee Boon, Vice-Chairman Lee Phung Koon said that he was impressed by SGM's efforts in producing academic publications. Using a quote from Prof Tay Lian Soo (1940–2016), editor-in-chief of The Complete Works of Hsu Yun Tsiao, which says "to preserve culture for the future generations," he hoped that other Chinese associations will follow the example of SGM in dedicating themselves to preserving and producing historical works.
Mr Koh then present presented 55 books to LLG which were received by Vice-Chairman Lee. The books included The Complete Works of Hsu Yun Tsiao, works of SGI President Daisaku Ikeda and art catalogues.
The delegates also visited the "Cheah Thien Soong: Emerging Untainted – An Inspiration from the Lotus Sutra" art exhibition to understand more about the significance of the Lotus Sutra in this modern world.