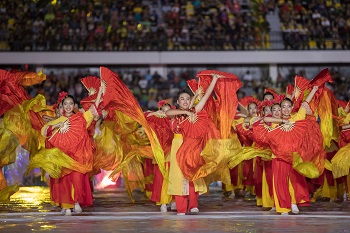 On September 11, 2018, the grand opening of the 19th Malaysian Games (SUKMA) was held at the Perak Stadium and was officiated by the Sultan of Perak, HRH Sultan Nazrin Muizzudin Shah, attracting thousands of audience on location or at home.
At the invitation of the Perak state government, SGM Perak presented several culture performances during both the opening and closing ceremonies. Eighty youth from SGM Perak's Culture Group performed a long fan dance which was part of the combined performances with some 700 performers from Kumpulan Selendang Perak (a traditional Malay dance group), various schools and other organisations. The performers presented the solidarity of Malaysia and received warm response from the audience.
Meanwhile, on September 22, 2018, Deputy Prime Minister YAB Dato' Seri Dr Wan Azizah Wan Ismail officiated the closing ceremony. Also present were Minister of Youth and Sports YB Syed Saddiq Syed Abdul Rahman and Perak Menteri Besar YAB Dato' Seri Ahmad Faizal Azumu.
The manager of Kumpulan Selendang Perak and choreographer of the SUKMA performances Herman Ibrahim praised SGM youth for their wonderful performances. He said that the performers were united and had a strong sense of responsibility which made their show a success. The group has collaborated with SGM since 2000 and has had a productive collaboration with SGM.