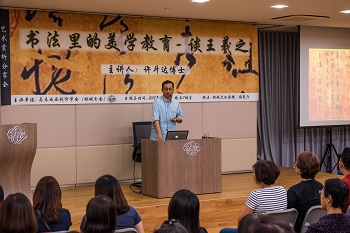 On August 4, 2018, SGM Penang held an art talk titled "Wang Xizhi – An Aesthetic Education on Calligraphy" at the SGM Penang Culture Centre. This talk is a continuation of a talk on arts and life held in 2017, and aimed at promoting understanding and appreciation of the beauty of Chinese calligraphy appreciation.
In this recent talk, noted local aesthetics researcher and museum curator Dr Koh Doh Tat spoke on the aesthetic viewpoint in the Wei Jin and Northern and Southern Dynasties of China and the background of Wang Xizhi, a famous calligrapher from the Eastern Jin Dynasty. He also spoke on The Picture of Ink Brush created by Lady Wei and stated that the basics of calligraphy is to express the person's attitude in life.
Afterwards, Dr Koh further explained the meaning of some of Wang Xizhi's calligraphic works and expressed high admiration for his sublime personality. Our lives should be full of artistic values, and that art should not be solely created for art's sake. We should also share the beauty that can be found in life.
Lastly, during the question-and-answer session, the speaker had a warm interaction with the audience.