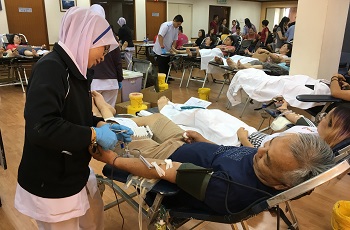 Kuala Lumpur
SGM Johor, Kedah and Kuala Lumpur held a total of five blood donation campaigns between May and August as a means of giving back to society.
On May 20, July 15 and August 5, blood donation campaigns were held at the SGM Kluang Centre, Batu Pahat Mall and Taman Tropika, Tangkak respectively. These campaigns were organised in cooperation with the Enche' Besar Hajjah Khalsom and Muar Specialist Hospital. The Batu Pahat and Tangkak campaigns successfully collected 138 and 150 packets of blood respectively.
Meanwhile on July 1, SGM Kuala Lumpur held the "Appreciate Lives" blood donation campaign at the SGM Selayang Centre. The campaign was co-organised with the National Blood Centre and successfully collected 120 packets of blood.
SGM Kedah held a blood donation at the SGM Langkawi Centre for the first tie on July 20. It received a warm response, successfully collecting 54 packets of blood at the end of the day. The SGM blood donation campaigns will play a vital role in replenishing our blood banks and save lives.