From August 3 to 5, the Juru Auto City in collaboration with Penang Green Council, Malaysian Green Building Confederation Northern Chapter and Green Building Index organised the Penang Green Carnival.
This carnival is one of the biggest platforms in Penang to educate people about recycling. The aim is to promote the concept of green creativity, introduce solutions and measures on sustainable development and showcase green products by various organisations. At the same time, it also contributes to increasing the awareness of the people on the importance of recycling and sustainable development.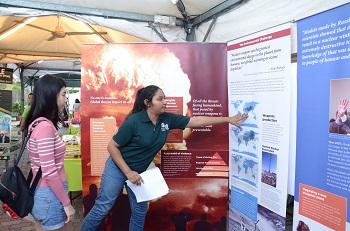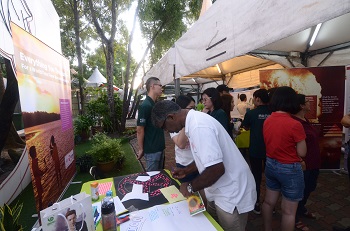 In conjunction with the carnival, SGM Penang held the "Everything You Treasure – For a World Free from Nuclear Weapons" (EYT) exhibition. The purpose was to build a peaceful and harmonious society through understanding the threat of nuclear weapons on humanity and sustainable development activities.
EYT, jointly-created by Soka Gakkai International and the International Campaign to Abolish Nuclear Weapons (ICAN), was launched in Hiroshima, Japan in August 2012 during the 20th International Physicians for the Prevention of Nuclear War (IPPNW) World Congress. Since then, EYT has been held in many countries including Canada, the US, Sweden, Korea and New Zealand.
Over the three days, EYT attracted 258 viewers and some of them signed the pledge to join the ranks to abolish nuclear weapons and create a world free from nuclear weapons.