The Byakuren Group is a key group supporting SGM events behind-the-scenes. It is made up of Young Women Division (YWD) members and serves as an important platform for fostering capable successors. On July 8, some fifty years ago, SGI President Ikeda named this group as Byakuren (white lotus), referring to the "like the lotus flower in the water" ideal found in the Lotus Sutra, indicating that no matter how muddy reality may seem, Byakuren members would always bloom splendidly like lotus flowers.
On July 14, the SGM Kuala Lumpur Byakuren Group held its commemorative meeting at the SGM Culture Centre, Cheras with the theme "Establishing an Eternally Indestructible Foundation."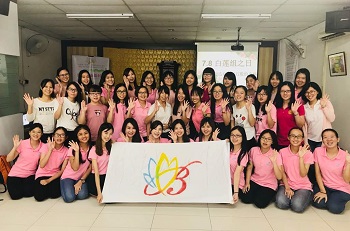 Johor
Eighty-five people, including Byakuren alumni, attended this meeting. They sang the Byakuren song "Glittering Stars", whose lyrics was written by SGI President Daisaku Ikeda, which expresses the mission of the Byakuren and their mentor's expectations.
Women Division member and Byakuren alumnus Ceelia Leong shared her experience of being in the Byakuren. Previously, she was afraid of failure and was often pessimistic. Through chanting abundant daimoku and making steadfast efforts, she overcame her weaknesses and in recent times, obtained a doctorate from Tokyo Institute of Technology.
Participants then broke into small groups to discuss Byakuren mottos which included "Smile brightly and act fast", "Protecting the organisation from behind-the-scenes" and "Becoming the core of the YWD." Seniors wholeheartedly shared their experience with their juniors.
SGM Byakuren Leader Yap Lee Mooi then encouraged participants to always welcome guests like President Ikeda does. Practising Buddhism in the Soka Gakkai will enable us to accumulate abundant good fortune. Though we may be physically-exhausted at times, our spirits will be enriched and we can establish the foundations for achieving eternal happiness.
SGM Johor Byakuren also held their commemorative meeting on the same day at the SGM Yong Peng Centre with the theme "Establishing Firm Happiness." In the meeting, Voon Yeong Yu and Tai Sheau Yi shared their victory reports with participants. The members also studied Gosho passages and made handicrafts to celebrate this day. Afterwards, small groups were formed and members talked about their days in the Byakuren and the transformation they had achieved since joining the group. The meeting was attended by some 40 people.
On July 29, 2018, SGM Penang held a commemorative meeting at the SGM Penang Centre in Burmah Road, Georgetown with 32 people attending. Byakuren alumni shared what they had learnt in the group such as to always warmly smile and be dedicated in all matters. The participants also learnt the spirit of protecting the organisation without begrudging one's life and dedicating oneself to propagating the Law.