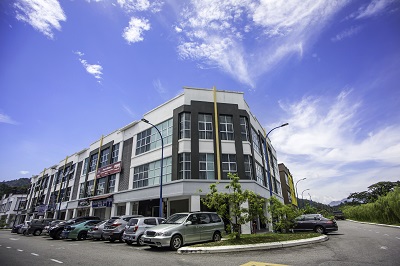 July 28, 2018 saw a new page created in the history of kosen-rufu in Pahang with the opening of the SGM Bentong Centre. On hand for this joyous event was SGM General Director Koh Sia Feai, Women Division Leader May Chan, representatives from the East Coast and local members. The entire event was streamed live to members at the SGM Pahang Culture Centre in Kuantan.
In his welcoming speech, SGM Men Division Vice-Leader and Pahang Region Leader Lim Tee Yen stated SGM had bought this three-storey shoplot in Bentong in 2017, and that renovation was carried out from February to May 2018. SGM Pahang members have chanted abundant daimoku and dedicated themselves sharing Nichiren Buddhism during the entire period, hence making the opening even more significant.
SGI President Ikeda also sent a congratulatory message for the opening, urging the Bentong Soka family to "strengthen your faith now more than ever", and to "contribute to the development and prosperity of your society" in this bastion of dialogue, trust and friendship.
Later, referring to President Ikeda's message, Mr Koh stressed on how to establish concrete friendships and having sincere dialogue with people in the community by giving several guidelines. He also urged the members to expand the network of peace and happiness through unity, good cheer and harmony.
Lastly, Youth Division members presented two songs namely "Youth with a Noble Vow" and "This is My Name" energetically, further enlivening the atmosphere. Guests also viewed an exhibition on the history of kosen-rufu in Bentong.
A Women Division member who has been practising for 36 years said that the opening of the centre marks a fresh departure for her to foster more capable people. Though already 71, she will continue to share Buddhism with people and foster members in her area.