The 66th National Day Celebration themed "Malaysia Madani: Determination in Unity, Fulfilling Hope" was held on 31 August. SGM participated in both the national- and state-level celebrations.
A grand National Day celebration organised by the unity government was held at Dataran Putrajaya. The event was broadcasted on television and streamed live online. Some 800 dancers presented a 8-minute performance encompassing Chinese, Malay, Indian, Sabah and Sarawak cultural dances, to the tune of "Kurik Kundi", highlighting the spirit of unity. Among the dancers were 40 SGM youth division members who presented the Chinese dance. They returned during the finale to present the theme song and other patriotic songs.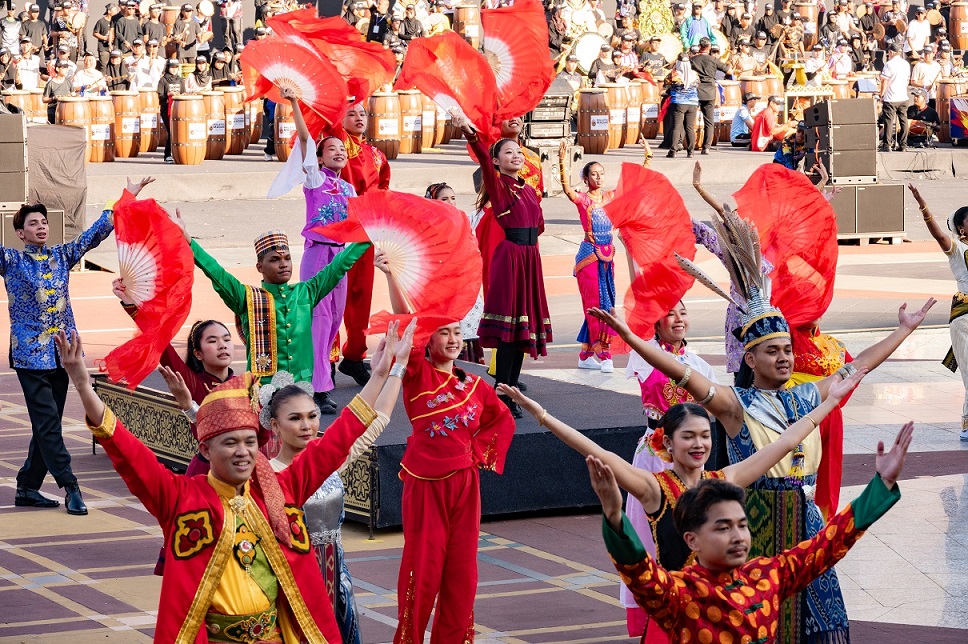 The dance was delightful, as commented by a live broadcast host. Choreographer Zul Belalang said the collaboration with SGM was a great one as the dancers were disciplined, energetic and passionate. National Department for Culture and Arts (JKKN) deputy director general Rosnan Nordin, who had long collaborated with SGM, commended SGM for being committed and highly creative. He said those were among the reasons why SGM was repeatedly invited to perform.
The event was graced by Yang di-Pertuan Agong Al-Sultan Abdullah Ri'ayatuddin Al-Mustafa Billah Shah, Raja Permaisuri Agong Tunku Azizah Aminah Maimunah Iskandariah and Prime Minister Datuk Seri Anwar Ibrahim.
| | |
| --- | --- |
| Melaka | Negeri Sembilan |
| | |
Meanwhile, at the Seremban City Council Square, 35 youth division members from SGM Negeri Sembilan presented a 15-minute performance at the state-level celebration, along with dancers from the Indian community, indigenous community and JKKN Negeri Sembilan. Their performance portrayed a beautiful vision of unity transcending barriers.
Fifty members from SGM Melaka and 55 members from SGM Perak also participated at the state-level parades which were held in front of the Proclamation of Independence Memorial in Banda Hilir and Indera Mulia Stadium in Ipoh respectively.
| | |
| --- | --- |
| Perak | Selangor |
| | |
As for Selangor, a celebration featuring a parade and several children-friendly activities was coorganised by SGM Selangor, Taman Klang Jaya Residents Association and Taman Klang Jaya Neighborhood Association at the Ikeda Peace Park in Klang. Sentosa assemblyperson YB Dr Gunaraj George flagged off a convoy while SGM honorary secretary Yap Chin Fah gave a speech. Over 300 participants turned out for the event in high patriotic spirit. Also present was SGM deputy president Johnny Ng.