Responding to the call of the 2018 Earth Day to "End Plastic Pollution" and promote the target of the United Nations' Sustainable Development Goals 2015–2030, SGM organised an environmental event with the theme "Everyone plant a tree to create a future without plastics" on April 21, 2018 at the Tanjung Piai National Park. The event was supported by the Pontian District Office, Johor National Parks Corporation and Universiti Teknologi Malaysia (UTM).
The organisers hoped that the event, which included getting rid of rubbish, could make the public use less plastic materials and gradually usher in an era of no plastic pollution.
In his speech, SGM representative Loke Weng Cheong said that the usage of plastics by the public has exceeded the speed of its breakdown and would cause worldwide environmental problems. In his 2017 Peace Proposal, SGI President Ikeda said that the youth is the key to the solutions for environmental problems faced by the global community. He fervently hoped that youth could positively bring about a chain-reaction for change.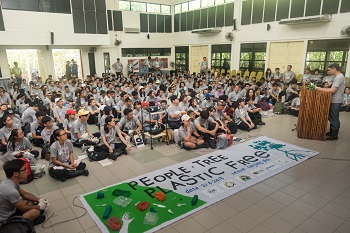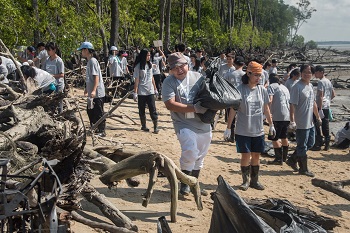 As such, the key personnel of the project were young people who would continuously maintain the environment. A total of about 400 people joined in the activity and they planted nearly 400 mangrove seedlings at the National Park. Among the participants were the members of the SGM Youth Division and Women Division, UTM students and members of the public. Johor National Parks Corporation staff provided guidance and assistance to the participants. Wearing long rubber boots, participants planted the seedlings along the coast of the sea. Fully-grown mangrove trees play a crucial role in preventing coastal erosion.
At the same time, the public helped to pick up rubbish around the park. That morning, they picked up nearly one ton of rubbish, mostly plastic materials. Although they were tired, they showed joy and satisfaction with their effort in contributing to the development of the environment.