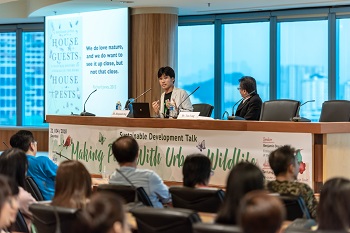 In conjunction with SGM's Month of Sustainable Development, a talk entitled "Making Peace with Urban Wildlife" was held at Wisma Kebudayaan SGM on April 21.
With an attendance of 114 people, mostly youth, the talk was presented by Benjamin Ong and moderated by Mr Tan Leng, Advocate and Solicitor of the High Court of Malaya and SGM General Council member.
An ecologist by training, Benjamin founded the Rimba Project, a campus sustainability and urban conservation initiative based at the Rimba Ilmu Botanic Garden, Universiti Malaya (UM). In 2016, he was awarded a Chevening-CIMB ASEAN Scholarship, a United Kingdom government award for emerging leaders, to study Sustainable Development at the University of St Andrews, Scotland. There he won the Chevening Green Volunteer of the Year award for his work with Transition, a community-based sustainability organisation based in St Andrews.
Benjamin is passionate in exploring the relationship between human communities and nature in the urban spaces through research, photography and writing. His book entitled The Backyard Before You is a meditation on the conservation of urban nature, with the Section 12 area of Petaling Jaya as his "playground."
As more than 75 percent of Malaysians are now living in urban areas, natural reserves are depleting at an alarming rate and nature conservation has become increasingly challenging. Aiming to share his research on the biodiversity in urban areas, Benjamin explored the subject by showing the audience where nature and wildlife in the city can be found, how to protect it and what we can do about it.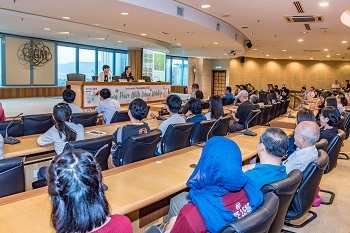 The talk was eye-opening as very few in the audience could envision wildlife existing in places such as in drains, car parks or man-made ponds, or that wildlife includes butterflies, birds, frogs and bees, among many others.
Benjamin also spoke about wild ecosystems which are commonly known as belukar (shrubs) and highlighted how the existence of wild inhabitants affect each other and their importance to human beings. He also brought to the audience's attention how people's mistaken views of nature, some of which are widespread, could bring harm to wildlife. He shared his thoughts on how we can reconcile our understanding of what is good for humanity with what is good for the environment we live in.
Benjamin also introduced the Klang Valley City Nature Challenge 2018 as an invitation to explore the urban wild around us, clearly stressing the fact that a more balanced co-existence is needed for a healthy living and how everyone can help to conserve wildlife. Those interested can obtain further information by accessing this link – https://klangvalleycnc.wixsite.com/2018.
After the talk, Benjamin also held a friendly exchange with a group of youth, mostly undergraduates, and further shared his views on ecology, conservation and biodiversity.