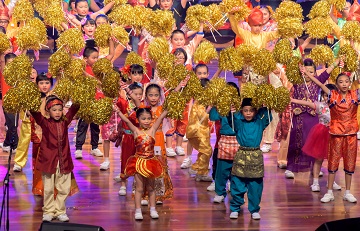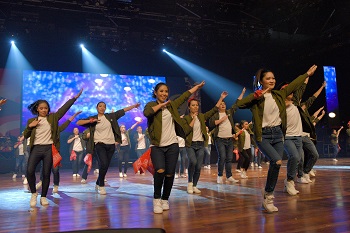 Malaysia's multi-ethnic, multi-cultural society is one of our nation's greatest strengths. To showcase this wonderful characteristic, SGM Negeri Sembilan participated in a multi-ethnic culture festival organised by the Negeri Sembilan state government on September 30 at the Dewan Tuanku Puan Chik of the state RTM building. Negeri Sembilan Menteri Besar YAB Dato' Seri Utama Haji Mohamad Haji Hasan, was present to officiate the event. This event was held to celebrate Malaysia Day which falls on September 16.
SGM Negeri Sembilan sent a team of 510 persons who performed onstage or worked behind-the-scenes, the largest contingent among the performing organisations. They consisted of a wide-ranging group, from primary school students to senior citizens. Working in the spirit of many in body, one in mind, they overcame various challenges over a six-month period to present various performances.
Junior Division (JD) members were the first to take the stage, performing a dance titled "Saya Anak Malaysia" with young friends from the Malay and Indian communities. Following this, a choir group made up of SGM Negeri Sembilan Men and Women Divisions members sang two songs titled "Courage" and "Victory." The JD members took the stage once again to perform two dances, "Sunrise" and "1Malaysia", performing the latter while waving flags. The cheerful actions of the children delighted the audience.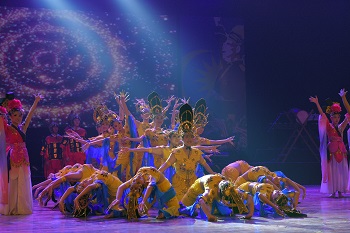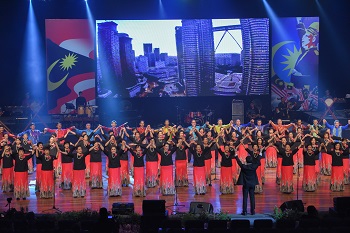 SGM dances also put up multi-ethnic dances, one of which is "Beauty in Prosperity", a traditional-themed dance telling the story of the achievements of the Tang Dynasty. Another team of 52 youths presented a vibrant modern dance which displayed the power and passion of youth. The highlight of the night came from the SGM Gymnastic Group, which put up a performance inspired National Transformation Plan for 2050 (TN50). The climax of their performance, the erection of a four-storey human tower with the performer at the top waving the national flag, drew enthusiastic applause from the audience.
Ethnic dances from Sabah and Sarawak and other communities were also part of the programme. The Chung Hua High School in Seremban also staged an energetic 24-seasons drum performance, adding to the dazzling cultural diversity of the night.
Other distinguished guests present include YB Dato Seri Haji Mat Ali Hasan, Negeri Sembilan State Secretary; Mohd Radzi Omar, Director of the Negeri Sembilan Department of Culture and Arts; Rosnan Nordin, Director (Production and Artistic Development Division), National Department of Culture and Arts, representing the Director-General; representatives of various associations, SGM President Michael Kok Fook On; SGM General Director Koh Sia Feai and SGM Negeri Sembilan Chairman Dato' Chong Khin Sang.