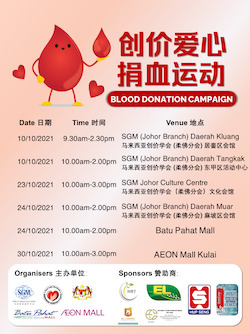 Soka Gakkai Malaysia (SGM) Johor Branch will organise a blood donation campaign to support and raise the blood reserve for the blood bank of the hospital.
Medical experts reassured that it is completely safe to donate blood during this pandemic. The organisers hope that more people will come forward to donate escpecially during this time.
Organisers:
Hospital Enche' Besar Hajjah Khalsom, Kluang
Hospital Pakar Sultanah Fatimah Muar
Hospital Daerah Batu Pahat
Hospital Sultan Ismail Johor Bahru
Hospital Sultanah Aminah Johor Bahru
Aeon Mall Kulaijaya
Batu Pahat Mall
Sponsors:
Big Country Group Holding Sdn. Bhd.
Eco Great Worldwide Holdings Sdn. Bhd.
HBT Food & Beverage Sdn. Bhd.
OP-G Innovative Industry Sdn. Bhd.
Everlasting Food Industries Sdn. Bhd.
Hup Seng Perusahaan Makanan (M) Sdn. Bhd.