On April 22, 2017, a day designated as the International Earth Day, an event titled "Sembang" (Chit-chat) was held at Wisma Kebudayaan SGM. The bilingual story-telling platform was co-organised by SGM and The World Wide Fund for Nature, Malaysia (WWF-Malaysia) in conjunction with SGM's Month of Sustainable Development.
Attended by about 320 participants consisting mainly of youths, the event aimed to gather people to share their thoughts on environmental sustainability. In his welcoming speech, SGM President Michael Kok elaborated that the collaboration was "to inspire more people especially the youth to take on greater efforts in the promotion of sustainable development."
In his opening speech, WWF-Malaysia executive director and chief executive officer Dato' Dr Dionysius S. K. Sharma shared a story on the origin of Earth Day and mentioned that "This year, we dedicate Earth Day to the youths because you are the voices of tomorrow." He also said, "The exposure needs to begin from now, so you will be able to make informed decisions and have the right mindset and right behaviour to build a more sustainable future."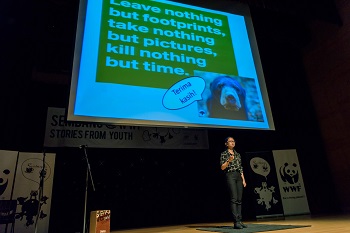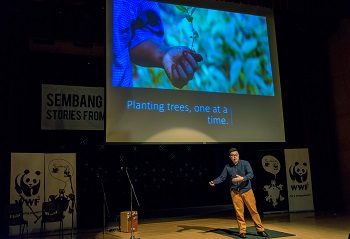 Following that, six youths took the stage to share their stories. They included students from public schools, teacher education institutes and Brian Fam, a member of the SGM Student Division and Navigator group. They spoke on the dangers and harm done on sun bears, elephants and highlighted the preciousness of water. One of them voiced out how our poor habits as consumers were worsening the current situation and another brought attention to the plight caused by hunger. Brian then spoke on the mobile application on sustainability called "Mapting" which aims to inform more people about the Sustainable Development Goals (SDGs) and promote sustainable actions.
The event also marked SGM's collaboration with WWF-Malaysia resulting in a launch of an animation series called When We're Friends with Nature. On hand to launch the animation was Tan Sri Dato Prof Dzulkifli Razak, President of the International Association of Universities and Chairperson of Universiti Sains Islam Malaysia (USIM). He expressed his joy of seeing the large turnout of youths and hoped that the younger generation, equipped with the true meaning of sustainability, would make the world a better place. He also elaborated on sustainability which he believed was about "living in a very humble way, knowing what are the limits we have to go through and making it a practice as far as our lives are concerned."
 This animation was the second in the series with a storyline based on the teachings of Buddhism related to environmental protection, underlined with the core messages that each of us can do something and that everything starts with one person.